Games Uniting Minds & Bodies Organization (GUMBO)

About the Program
GUMBO (Games Uniting Mind and Body) is track and field competition designed for school aged students with physical or visual disabilities. The events are not unlike those of able-bodied athletes. What makes GUMBO different is the fact that most of the athletes compete using leg braces or wheelchairs, or have some form of mobility or visual impairment. These individuals are not mentally disabled. Their eligibility for the competition comes from having conditions such as: spinal cord injuries, cerebral palsy, multiple sclerosis, muscular dystrophy, spina bifida, amputations, posture deviations, visual impairments or blindness.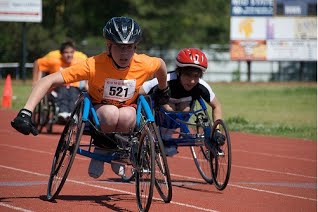 What is the Purpose of GUMBO?
The primary purpose of the GUMBO program is to provide athletic opportunities for children and youth who have physical or visual disabilities. GUMBO competition is based on a philosophy that endorses participation in sports as having strong therapeutic and social value. Typically these students are not eligible for Special Olympics and have limited opportunities to participate in or be exposed to high school interscholastic or extracurricular sports.
GUMBO is similar to Special Olympics in that it provides athletic competition, but that is where the similarity ends. GUMBO strives to be different by concentrating on self-achievement, self-improvement, and self-confidence. The major difference is a shift in the focus from "medal count" to time, distance, and personal achievement as a measure of excellence. To win over another individual says nothing of whether the athlete has produces his best effort.
Who May Participate?
Any Louisiana resident, ages 5 through 18, who has a physical or visual disability is eligible for competition.
Participation in GUMBO offers a variety of opportunities. While sports training and competition is primary, athletes have the opportunity to practice appropriate skills in a variety of social settings both on and off the field of athletics.
GUMBO places a special emphasis on learning how to be successful and independent in the real world.
When and Where Are Activities Held?
Four main competitions are held each year. Regional events take place every spring in Shreveport, Alexandria, and New Orleans. The GUMBO Invitational (state level competition) is held in the fall in Baton Rouge. Sports clinics are periodically scheduled in other areas of the state to give students an opportunity to practice new skills and experience mini-competitive events in a non-threatening atmosphere.
Training is offered upon request for volunteers who are interested in becoming officials, coaches, statisticians, etc.
---
Back to top