KIDS ON THE BLOCK
Nebraska's Major Projects
E.N.T.E.R., Elks of Nebraska's Training and Employment Rehabilitation, assists persons with disabilities in the state of Nebraska to become successfully employed. Through the Nebraska Assistive Technology Partnership, a mobile rehabilitation service called Solutions on Site (SOS) has been developed. SOS provides services such as design of assistive devices, work site and home modifications. KIDS ON THE BLOCK is a puppet show that travels to elementary schools to teach children to accept and appreciate the differences among people.
The Elks of Nebraska serve as valuable resource for business contacts through local breakfasts, luncheons, events and business meetings that they provide for Vocational Rehabilitation. This creates opportunities for local business that hire people with disabilities to be recognized. It also allows a forum for other business leaders to hear about the good source of employees available through the partnership with Vocational Rehab and the Elks of Nebraska.
Assistive Technology Partnership of Nebraska
The ATP is a valuable resource for individuals with disabilities and their family members to:
Obtain information about AT and appropriate funding sources;
Borrow equipment on a trial basis (or device repair);
Purchase selected equipment or software at discount prices;
Consult with specialists regarding accessibility issues;
Receive training; and
Receive on-site support at home, in schools and on the job.
Source: http://www.atp.ne.gov/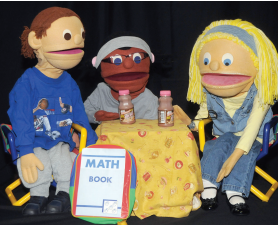 Kids on the Block
A Kids on the Block performance is an unforgettable educational experience. The "kids" vividly and effectively model relationships between people both with and without disabilities, through frank and other humorous communication of facts and feelings between the puppet characters and the audience. All of our puppets are operated by trained puppeteers. The program uses a set of 3-4 foot tall puppets to convey its message to children and encourage them to ask questions.
Kids on the Block puppets are a powerful medium to talk to youth in a variety of settings including schools, preschools, youth groups/clubs, kids fairs, summer programs, and support groups.
For more information contact: Michael Ohren 7015 Beth Ave, Papillion, NE 68133 402-660-0709.