The Michigan Elks will assist any special needs child in Michigan, regardless of race, creed or color, who is unable to obtain assistance from other agencies or organizations; whose family's income will not allow them to give the child the needed treatment.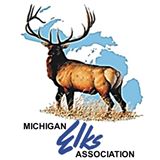 Special Needs are defined as any handicap in a child that restricts his or her ability to function in a normal manner. We offer assistance from birth through the 17th year. The types of services we provide are through awards made on behalf of the individual children as requested, paid directly to the approved vendor, camp, doctor or therapist and include approved therapies, attendance at therapy camps located throughout the State of Michigan, medical equipment, technology items such as iPads for assistance with communication as well as therapeutic activities, hippotherapy and much more.
Families that are in need of financial assistance work with their local Elks Lodge Major Project Chairman or Exalted Ruler to prepare a Request for Assistance form. Each case is individually evaluated by the District Commissioners and Executive Director, with the emphasis on whether the requested therapy, equipment or treatment will enrich and improve the child's life. The Commissioners are elected by their District and serve six-year volunteer terms.
Each year, the Michigan Elks Lodges across our state hold a variety of fundraisers to benefit Major Project (some very creative events such as Polar Plunges, themed dinners, contests, golf outings, and much more), as well as participating in the 365 Bank program, where members contribute change (and dollars and checks) throughout the year. Members often remember loved ones or the passing of a fellow Elk by making memorial contributions to Major Project in lieu of flowers. The Major Project Commission also holds an annual fundraiser to help bolster our budget.
The Michigan Elks Association Major Project Commission, which was established in May of 1957, celebrating 60 years of serving special needs children and is marking this milestone anniversary with a renewed passion of service, education and compassion. It is our intent to help educate our members and the public about the opportunities that are available to our most cherished and vulnerable children.
Michigan Elks Association Major Project Commission is a 501(c)(3) registered non-profit organization. You can check us out on our website: michiganelksmajorproject.org, Facebook: Michigan Major Project or contact us via email at majorproject@mielks.org
For more information contact Diane Dusendang, Executive Director, PO Box 141605, Grand Rapids, MI 49504