Lodge Facilities
BANQUET ROOM RENTAL
Our banquet rooms have a separate bar area and sound system.
LARGE HALL - holds 100 people comfortably and costs $150.00 for members, $200 for non-members.
SMALL HALL - holds 40 people comfortably and costs $75.00 for members and $100.00 for non-members.
A security deposit is required. Call 724-652-7779 after NOON for more information.
CHARITY EVENTS OR PARTIES
Help support your lodge. Plan an event in one of our available rooms. Lodge Officers will be glad to help organize your event.
Receipts are required for expense reimbursement. Contact one of our friendly and helpful bartenders on duty for open dates.
Host/Hostess needed for events. Pass the word to any interested party.
Elks Lodge 69
Stop in after Noon 7 days a week, closing at different time for the weekend! Enjoy the various indoor activities available: Pool table, Shuffleboard, our friendly bartenders, to name a couple.
I think you will find our Lodge to be very friendly and welcoming!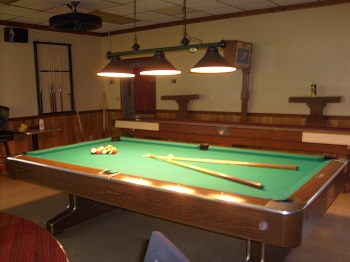 Games and Entertainment
Come visit us and enjoy our indoor activities.
We have everything from a beautiful, tournament size pool table, shuffleboard, flat screen TV and much more. Relax at the bar in the Grill Room and enjoy your visit. Our indoor ATM enables you to do just that! We also have a out door covered & screened patio.
---
Back to top