Lodge Facilities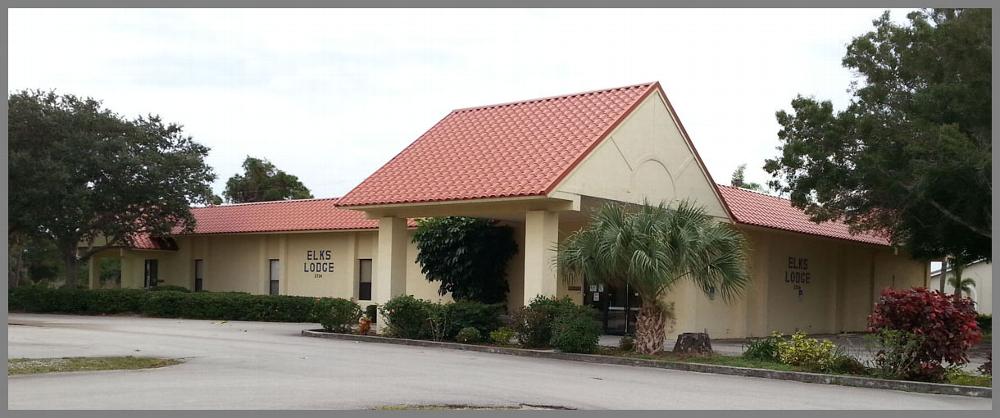 Dining room and Lodge hall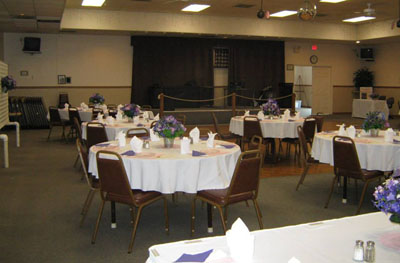 The Dining Room/Lodge Hall is where most Lodge meetings and social activities are conducted. The room is also available to rent for weddings, banquets and other events. The climate controlled room has a 200 person capacity, a 24' X 24' parquet dance floor, a raised stage for a band, or other entertainment, and plenty of tables and chairs.
Banquet packages can be arranged to include food preparation and kitchen access. For pricing information and availablity, please leave a message at any time for the Rental Manager at (772) 589-6426 or after 3:00 PM Monday thru Saturday at (772) 589-1516 with the duty bartender in the Lounge.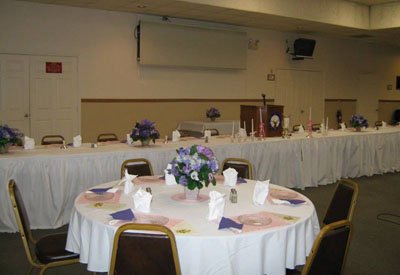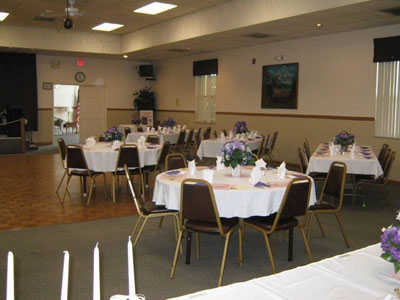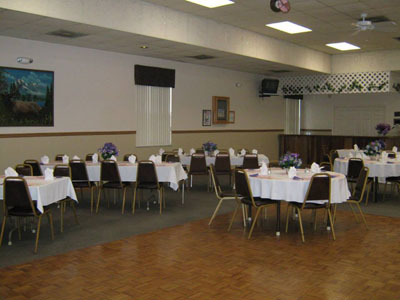 Lounge
The Sebastian Elks Lodge #2714 lounge (open to Elk members and their guests) has a full service bar serving all the popular mixed drinks, domestic and imported beers, and house wine. Bar snacks are available and please check the calendar for food and entertainment schedules. The climate controlled lounge has both large and small screen televisions. "Pool", on an excellent table, is enjoyed by the membership with a weekly league that meets on Monday nights. The lounge opens Monday thru Saturday at 3:00 PM.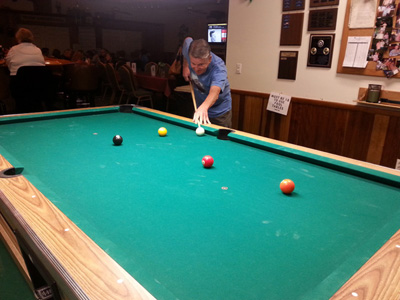 Lodge Lounge: (772) 589-1516
Monday night is Pool League. New players are always welcome.
Tuesday is "Taco Tuesday" night serving tacos from the kitchen from 3:00 PM until they are gone. Free Pool.
Wednesdays host "Bar Bingo" from 7:00 PM - 9:00 PM
Burgers, hot dogs and French fries are the fare on Thursdays from 4:00 PM - 6:00 PM along with the ever popular "Where's the Elk" starting at 5:00 PM (Drawing at 8:00 PM). Free Pool.
Fridays bring out the wings and other dinners at 6:00 PM with entertainment by various artists. Menu and entertainment updates can be found on the Calendar page. Clicking on a selection will open a "details" page.
Saturdays and Sundays the lounge hosts special events, dances and banquets. There is no specific closing time on these nights as the lounge closes when events are over and/or the members have gone home.
Please check the Calendar page, which is updated regularly, for the wide variety of events, dinner menus and entertainment hosted by Sebastian Elks Lodge #2714 during the course of the year.
---
Back to top