Lodge Facilities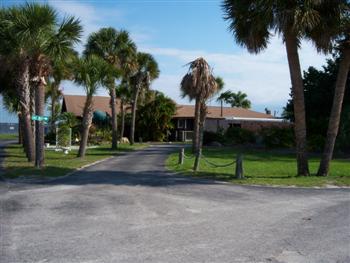 Punta Gorda Elks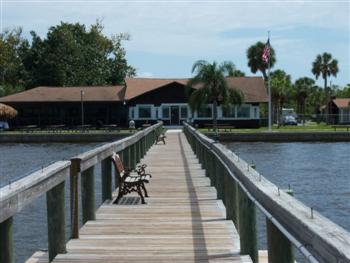 Eagle's Nest Lounge
Lounge/Bar opens Monday - Saturday at 11 AM and Sunday at Noon. A light lunch is available in Bar Monday and Saturday, full lunch menu is available Tuesday thru Friday. The name "Eagle's Nest" comes from the early 1900's when our Lodge was a famous hunting and fishing lodge. There was an Eagle's Nest in one of the larger tree's on the property.
Eagle's Nest Restaurant
Restaurant open; for Monday Night Chicken 4:30 to 8:00 PM. Tuesday thru Friday for lunch 11 AM - 2 PM. Dinner Wednesday thru Saturday at 5 PM, Early Bird Specials available from 4 PM to 6 PM and on non-event Sundays from 2 PM to 6 PM. Many tables provide a beautiful panoramic view of the Peace River and upper Charlotte Harbor. Outdoor Steak Roast 3rd Sunday of every month during the winter season and Picnic on the Water in the summer.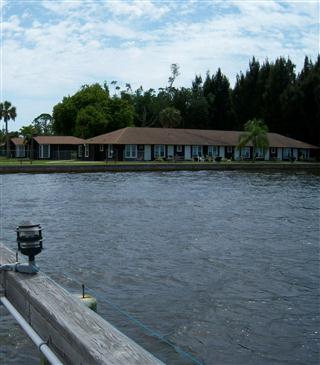 Eagle's Nest Cabins
Cabin Rentals are available to Elk's and their Guest's by the day, week or month. Cabins include kitchens, bathrooms and sleeping facilities for up to 4 people. To view more information, click for NEW Cabin Rental Rates and Cabin Area Layout.
For reservations or information, call (941) 637-2606 ext.401(ext.409 nights and weekends) or email pgelkscabins@comcast.net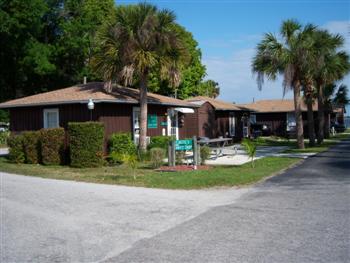 Elkettes Thrift Shop
Operated by Punta Gorda Elkettes 2606, the THRIFT SHOP is open Tues, Wed, Thurs, Fri, & Sat. From 11:30am - 2:30pm. And also open on SteakRoast Sundays Noon to 4pm. A wonderful shopping experience for Men's and Women's Clothing, Accessories, Misc. Items, Crafts and more. For more information call (941) 637-2606 ext.451.

Punta Gorda Elks Dock
The dock is 550 ft long and was completely rebuilt in 2003 after the old dock was destroyed by a "No Name" storm in 2001. During Huricane Charley the dock remained in place but took on a pronounced "serpent" appearance and had to be re-set. The depth of the water at the end of the dock varies from less than 2 ft. at very low tide to more than 4 ft. at hightide. The depth decreases gradually as you move closer in toward the seawall. Members and guest are allowed to fish from the dock and tie up their boats for day events at the lodge.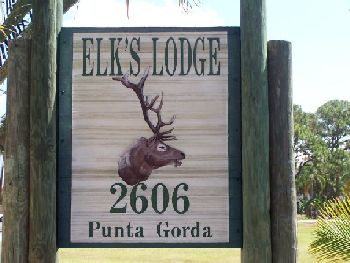 Punta Gorda Elks: Directions
Located on the beautiful Peace River in Punta Gorda, FL. For driving directions please listen to the recording at: (941) 637-2606. Or click MAP
---
Back to top