Lodge Facilities
Website Information
Further information will be available on our new website elks2251.org
Please visit to sign up for our monthly newsletter, get the latest events, and more!
RV Park
We welcome visiting Elks with RV's or trailers. The Lodge has 34 spaces with water, electric hook ups (30 or 50 amp), and sewer hook ups. Check with the Club Manager or Bartender on arrival.
---
RV PARK RATES
November 1 through April 30th
Per Night Parking for All RV's in Designated Spaces
Full hookup with 30amp or 50amp, Sewer, Water
$30 per day
$336.00 Biweekly
$660.00 Monthly
$600.00 Monthly Plus
---
May 1st through October 31st
Per Night Parking for All RV's in Designated Spaces
Full hookup with 30amp or 50amp, Sewer, Water
$25.00 per day
---
RV Storage Class A, B, C $65 per month
Front Storage Under 16' trailers, campers, haulers $55 per month
(Cars, trucks, boats, SUVs not permitted)
Guests with an additional vehicle $10 per day or $55 per month
Dump Station $10
Space is available on a first come first serve basis. Sorry, we do NOT accept reservations. . Contact the lodge for further details and availability of space. WiFi is available to all RV's in the park.
Club Hours
Monday through Friday from 11:00 AM - 10:00 PM.
Saturday 10:00 AM - 10:00 PM.
Sunday 9:00 AM - 9:00 PM.
Club closed on first and third Tuesdays during Lodge meetings.
Scheduled Lodge events might modify all the scheduled hours

Happy Hour 3 PM to 6 PM Monday through Saturday and all day on Sunday
---
Our large banquet room is ideal for your next event.
---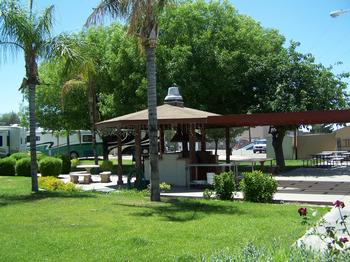 Grill and Picnic Area
The lodge has a wonderful outdoor grilling and picnic area, often used for functions like Labor Day Picnic, Memorial Day Picnic, the annual Children's Easter Egg Hunt, Western Night and the lodge and state Soccer Shoot.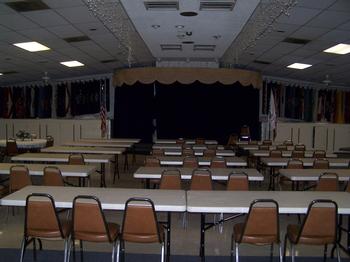 Lodge Room
This room serves as our lodge room and sits next to the kitchen. It is used for our dining room, special events, meetings and many other community and lodge activities. The room capacity is 240 people.
Social Club
The club lounge area consists of a "U" shaped bar seating approximately 20 people. The area around the bar has tables seating approximately 32 additional people. To the south of the lounge area is our game room with 2 full size pool tables and seating at bistro tables. One of the two ladies' rest rooms is located off this area. To the north of the lounge area is our small dining area seating approximately 60-70 people. This area can also supplement seating for the bar lounge area.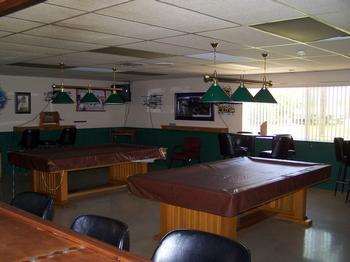 Game Room
This room sits just to the side of the lounge. It is open to the lounge and has two full sized pool tables as well as bistro seating. It also has a separate enclosed card room with two card tables.
---
Back to top