Lodge Facilities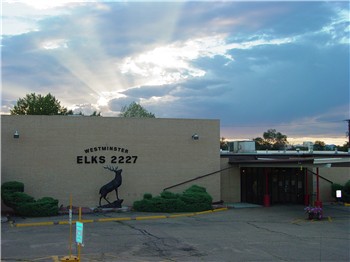 Facility Use Requirements
The Westminster Elks Lodge #2227 facilities and grounds are open only to BPO Elk Members and their Guests. To gain entry to the facilities you must show a current and valid BPO Elks membership card; this is required. Visitors to the Lodge must ring the bell located next to the main door, present proof of membership, and sign the guest registry. Any guest of a Westminster member or any visiting member must also sign the guest registry, and are only allowed in the lodge as long as the Member or visiting member is present at the Lodge. Same guests shall be allowed only three (3) visits without making application for membership. The public is allowed at the facilities only for special events or when sanctioned by BPO Elks Grand Lodge. The above requirements are not flexible and are strictly enforced.
Location
The Westminster Elks Lodge is located at 3850 Elks Drive Westminster, CO 80030. Close to shopping, golf and parks. Located 15 minutes from downtown Denver. The nearest major cross streets are 72nd and Lowell Blvd. The Lodge is 3 blocks south and 5 blocks west of that intersection. Visitors may get exact directions from our website, call the Lodge at (303) 429-2227 or send an Email in advance to info@westminsterelks.org.
Jolly Cork Room
Come and enjoy the relaxed and comfortable atmosphere of the Jolly Cork Room. Jukebox, shuffleboard, pool tables and four TV's are available for your enjoyment.
Children's Activity Room
Located off the Main Dining Room. Something for children to do while completing your meal.
Equipped with books, puzzles, chalk board, TV and other toys.
Lodge Room
Space in the upper level available for weddings and other special events. The Lodge Room has an interior and exterior entrance. Contact the club manager for details. 250 occupancy.
Frey Hall
Space in the lower level available for weddings and other special events. Frey Hall has a separate entrance. Contact the club manager for details. 250 occupancy.
The 2227 Elks Hill Park
A large grassed area south of the main Lodge with a covered picnic pavilion and plenty of space for a large crowd. Restroom facilities are available during the summer months. Any group will be required to make prior arrangements for use. Five horseshoe pits, volleyball court, children's playground with climbing and balancing structures.
Top of the park
RV spaces with electric (50 amp & 30 amp) and water hook-ups are available at the top of The 2227 Elks Park.
A dump station is available on the premises.
Separate covered pavilion.
Self contained units only.
For more info, check out the campground information on our website.
Flagpoll
The flagpole on the hill is said to be from the USS Maine, which was sunk in Havana Harbor in 1898. This flagpole was formerly on top of the US Customs building in downtown Denver, Colorado before it was razed. Lodge historians are currently trying to verify the authenticity of this historical information.
---
Back to top