Lodge Facilities
Club Room
Our Club Room offers plenty of seating and a variety of entertainment options. The bar area, a dance floor, a Jukebox, a big screen TV and a Plasma TV, Keno, darts, and billiards. We also have a deck overlooking the pool area with a spectacular view of the surrounding countryside. We are open Monday - Wednesday 2:30pm - 11:00pm, Thursday 2:30pm - 1:30am, Saturday 2:00pm - 1:30am, and Sunday 2:00pm - 11:00pm.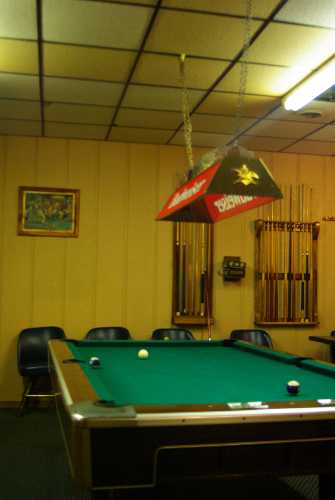 Billiards Room
We have a full length billiards table in its own room, with a spectacular view of the pool area and the surrounding landscape.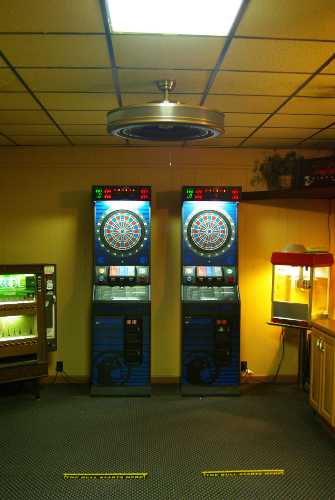 Electronic Darts
We have 2 Electronic Dart Board Games in a separate room off of the Club Room. We have dart tournaments on Thursday nights and leisurely games on the other nights.
Card Room
We have a separate room set up for semi-private card games. The room is located off of the billiards room.
Kitchen
We have a large Kitchen area located off of the Dining Hall.
Dining/Banquet Hall
We have a large banquet hall that can be rented by the membership. The dining hall has a separate lounge facility, entrance, and kitchen.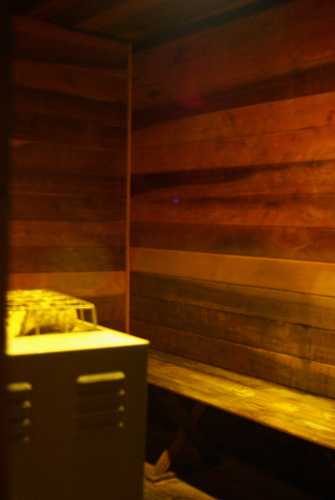 Weight Room & Sauna
We have a full use weight room in the basement with machines as well as free weights. There is also a sauna in the gym area as well as changing areas.
Patio & Picnic Areas
We have 2 Covered Picnic areas and one patio area. One by the BBQ Grills and the HorseShoe pits and the second one is by the pool. We also have a deck off of the Club Room with tables, chairs and umbrellas. All three areas have a beautiful view of the wooded valley behind the club.
Swimming Pool
We have a large in-ground pool with a recently refinished concrete patio. The pool is shallow enough for the little ones and deep enough for the older kids and adults. There is a lifeguard on duty during the summer months while the pool is open. With our new deck, we have plenty of lay-out room for the ones who want to work on their tan.
Horse Shoes
We have 4 sets of HorseShoe pits. They are outside, so weather permitting, but they are good sand bottom pits, ready to be used.
---
Back to top