Lodge Facilities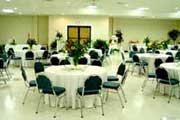 Non members Lounge
With over 14,000 square feet, Smoke free facility will accomodate 350 people. Adjoining private lounge accomodates 50 and includes all ABC permits. Ice and kitchen facilities are available with flexible setup/breakdown hours and competitive pricing.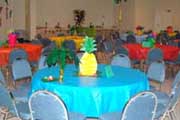 Event Center & Ballroom
The facility is flexible for a variety of events from school dances to weddings to political conventions.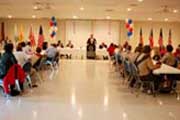 Event Center & Ballroom
Lodge uses facilty for a variety of events. On Tuesday evenings it is open to the public for BINGO.
Other events include our FLAG DAY CELEBRATION and our BLUE STAR DINNER.
The Lodge regularly holds dances which are open to the public. The last dance featured the popular beach group, BAND OF OZ. Keep checking here to find out about our next event.
Need to rent our space? No problem. Give us a call at 252-726-4472.
Members' Lounge
Our members' lounge is non-smokering. We provide a full, professional kitchen and anytime the Lodge is open, our staff can provide from a wide variety of short order items. On Friday evenings our members enjoy great meals ranging from Prime Rib, to Clam Bakes. Call us to see what the menu is each week or check out our monthly calendar in our newsletter. The members' lounge also includes a card room and a billards room as well as the Lodge Meeting Room. Lodge offices are also located here as well as a special play area for members' children where they can be observed through a two-mirror while their parents enjoy the lounge.
---
Back to top