Lodge Facilities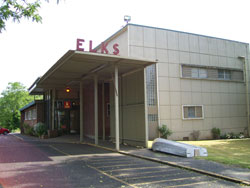 Main Lodge
We are open on Mondays, Thursdays and Fridays beginning in September. Monday is Taco Night and Fridays vary. Please see our calendar for the selections and other events.
Our Lodge also has 10 available RV spots adjacent to the parking lot of our building. They are provided on a first come, first served basis.
The Lodge opens at 5pm Mon-Thur-Fri.
Tokatee Illahee Park
Just north of Siletz sits our beautiful park. This is a great place to have weddings, receptions, reunions, parties, etc. Our park features a Lodge House and field area with a gazebo, bbqs, basketball and volleyball courts as well as swings and slides for kids. We also have 4 horseshoe pits available. On the upper level we feature 40 dry campsites, an encloseable gazebo with woodstove and kitchen, a horseshoe pit, pit bbq and play area for the kids. And this is all right on the Siletz River! Its a beautiful place to camp! Come and see.
If your coming south on 101, take Hwy 229 at Kernville and follow it for approximately 20 miles. The park will be on your right just before going over the green iron bridge.
If you're coming from the I-5 corridor, take offramp 228 and head toward Newport, once you get to Toledo take Hwy 229 toward Siletz (bear right at the yellow flashing light at the Dairy Queen). Stay on 229 through the City of Siletz and go about 2.5 miles past Siletz just past the 2nd green iron bridge. The park is immediately past the bridge on your left.
Park Hosts John and Barb Haney. Park phone: 541-444-2733
---
Back to top