Lodge Facilities
RV PARKING
6 Full Hook-up Back-In Sites Electric 30 Amp, Water & Sewer Fee: Donations
Some Parking available with no hookups
Call (850) 877-1652 for more info. .
DINING ROOM -- 850-877-2723
STOP BY AND TASTE SOME OF THE BEST FOOD IN FLORIDA...
Some Monday's Volunteers Cook Various Foods offered in Lounge 5:30 PM - 7:00 PM
Wednesday Bingo Food 5:00 PM - 7:00 PM
Thursday Lunch Buffet 11:00 AM - 1:30 PM
Friday Theme Dinner or Buffet 6:00 PM -8:00 PM once a month
Call (850) 877-1652 to see what we have scheduled
LOUNGE -- 850-877-1652
STOP BY AND RELAX IN OUR LOUNGE.
3 Wide Screen TV's WiFi in the lounge Game Room with 2 Pool Tables
FREE POPCORN
Mon. - 4:00 PM - 10:00 PM
Tue. - 4:00 PM - 10:00 PM
Wed. - 4:00 PM - 10:00 PM
Thu. - 4:00 PM - 10:00 PM
Fri. - 4:00 PM - 10:00 PM When Volunteer Bartenders Available
Sat. - 12:00 Noon - 8:00 PM When Volunteer Bartenders Available
Sun. - Closed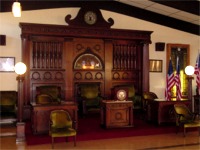 Original B.P.O.E. #1 Furniture
Original B.P.O.E. #1 Furniture Brother Lewis M. Lively, a member and one of the founders of the Tallahassee Lodge, while Grand Esteemed Leading Knight paid an official visit to New York Lodge No. 1 in the summer of 1912. At that time the New York Lodge had just erected a new building and completely furnished it with new furniture. On the day of Brother Lively's visit the lodge was negotiating with the Retting Furniture Company of Grand Rapids Michigan to sell the original furniture and had agreed on a price of $1,400. Tallahassee Lodge had just completed the building at 119-121 S. Monroe Street, so Brother Lively thought this was an opportune time to obtain furniture for the lodge room. Inasmuch as the Redding firm had no use for the furniture he persuaded the members of New York Lodge to sell him the furniture at the same price of $1,400. He closed the deal then and there and gave the lodge his personal check in payment. Brother Lively was offered a substantial profit if he would cancel the purchase. This he refused to do and had the furniture shipped to Tallahassee. In addition to the furniture all the rugs on the floor of New York's lodge floor were donated. Some two years later New York Lodge sent Brother Lively, as a personal gift, a large Elk's head which was later presented to the Panama City Lodge. The furniture was the first ever designed, built and installed for an Elk's Lodge. Many men of prominence took their obligation at its altar. Among them Will Rogers and other famous men of the theatre and other professions. This statement was verified by Murray Hulbert of New York Lodge when he made an official visit to the Tallahassee Lodge while Grand Exalted Ruler.
---
Back to top