Lodge Facilities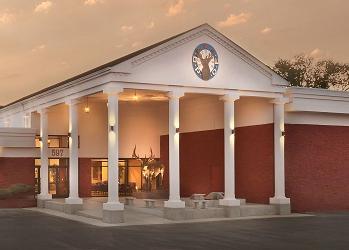 Reno Elks Lodge
The current Lodge building was completed in 1960 and is a South Virginia Street landmark. The facility contains ample space for meetings and social events. There are attached men's and women's athletic facilities and the swimming pool is open to members and guests from Memorial Day to Labor Day! A complete building renovation was finished in August 2011. Updates included new heating and air conditioning equipment, new roofing and insulation, paint and flooring and a completely new front entrance and lobby!
Lobby
The Lobby is a large open space that welcomes visitors to the building. The conference room is accessed through the lobby, as are the Terrace Room, Banquet Room, Lounge and Lodge Room. A display of US flags flies above the trophy case, and portraits of current lodge and state officers and Emblem Club presidents adorn the walls.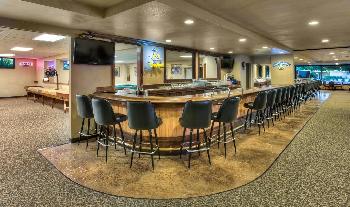 Game Rooms
The old billiard room and card rooms have been combined into a Game area, directly accessible from the Member's Lounge. Dart boards are available, along with TWO 24' tournament-quality shuffleboard tables. A jukebox and flat panel HDTVs are installed for entertainment while playing your favorite games! The adjoining Pool Room contains 2 pool tables and a regulation Snooker table. The room contains a complete set of pool cues and accessories. Unsupervised children are not allowed in the game rooms at any time.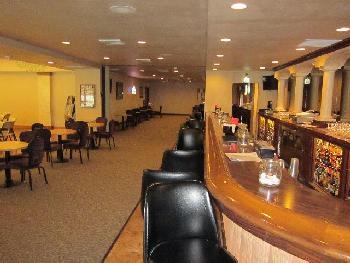 Lounge
The Reno Elks Lodge has a long, well stocked bar and lounge area. At one time, the bar at the Reno Elks was the longest bar in northern Nevada! Three big-screen HDTVs are located in the Member's Lounge, with additional TVs in the adjoining Game Rooms. Our regular hours are 11:00 AM to 7:00 PM, Tuesday through Sunday. During football season, the Member's Lounge opens on Monday evenings at 5PM.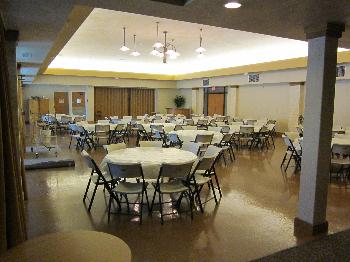 Terrace Room
The Terrace Room is a large, multi-function room which is used for most Elks functions. Large windows give the room a bright and open feeling with a great view of the majestic Sierra Nevada. The room can seat up to 120 people and has easy access to the pool area, kitchen and lounge.
Banquet Room
The Banquet Room is also a large, multi-purpose room. The room can seat up to 130 people. Sliding partition walls allow access to both the Lodge Room and the Terrace room. Doors connect directly to the kitchen for either sit-down dinners or buffet-style dining.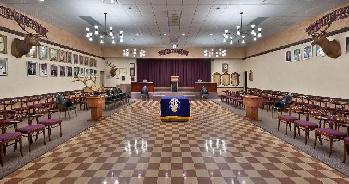 Lodge Room
The Lodge Room boasts a new altar and new podiums at the officer's stations. As a meeting room, the lodge room can seat up to 130 people. When the sliding partition is opened, the Lodge Room and Banquet Rooms provide space to seat up to 300 people for a variety of functions. The Lodge Room also has a large stage with dressing rooms and restroom facilities.
Swimming Pool
The Reno Elks Lodge has an Olympic Size swimming pool which has recently undergone a complete renovation. Men's and Women's dressing rooms are available. The large patio between the pool and the Lodge building serves as an excellent location for BBQ's and parties, and a Snack Bar is available daily for fast food and soft drinks. The Pool is available from Memorial Day to Labor Day and is open only to Elks members and their families and guests every day!!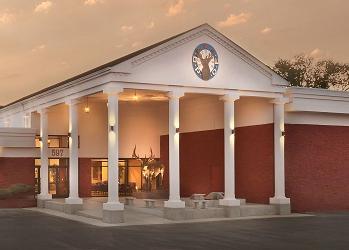 Directions
The Reno Elks Lodge is located just off South Virginia Street, across from the Reno/Sparks Convention Center. From points East and West of Reno, take I-80 to Reno, then exit onto I-580/US 395 South to Exit 63 - South Virginia/Kietzke Lane. Turn north (right) onto South Virginia. Continue on South Virginia to Redfield Parkway, (first intersection after the light at Kietzke Lane), and turn left onto Redfield Parkway. The Reno Elks Lodge is on the right. From Carson City and points south, take I-580/US395 North and exit at Neil Road. Turn right on Neil Road, then left onto South Virginia St. Continue north on South Virginia St. approximately 1 mile. Turn left at the first intersection past Kietzke Lane (Redfield Parkway), and the lodge will be on your right. We look forward to seeing you!
---
Back to top