Lodge Facilities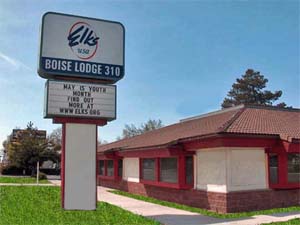 Boise Elks Lodge #310
Elks Lodges bring so much more to their communities than just a building, They are places where neighbors come together, families share meals, and children grow up.
Elks invest in their communities through programs that help children grow up healthy and drug-free, meet the needs of today's veterans, and improve the quality of life.
We would like to welcome all Elks to Boise Elks Lodge #310. We are located at 6608 West Fairveiw Ave. The lounge is open at 3:00 PM. Tuesday, Wednesday and Friday.
Please check our calendar of events and meetings.
Kitchen
The kitchen is fully equipped with oven, stove, microwave, freezer, refrigerator, sink, dinnerware and utensils.
Lodge Room
The Lodge Room is where our regular meetings are held. They are held the first and third Wednesday of each month, except June, July and August. It is also where the Lodge Formal and Social functions are held.
Lodge office
The Lodge office is open from 1:00 PM. to 3:00 PM, Monday thru Friday. The Secretary can be contacted at (208) 377-2763. If you call and there is no answer, please leave name, a message as to why you called along with your number.
---
Back to top