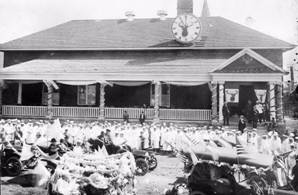 WELCOME TO THE COPPER COUNTRY

LOCATED IN THE BEAUTIFUL UPPER PENINSULA OF MICHIGAN

WE ARE OPEN EVERY FRIDAY, MEETING NITE 2nd WENDSDAY OF THE MONTH

WE ARE LOCATED AT 25701 WEDGE STREET, CALUMET, MI 49913. IT'S ON THE CORNER OF 6TH & WEDGE STREET AS YOU ENTER INTO HISTORIC DOWNTOWN CALUMET

VISITING ELKS ALWAYS WELCOME!

MAKE SURE YOU CHECK OUT OUR LODGE CALENDAR FOR UPCOMING EVENTS!