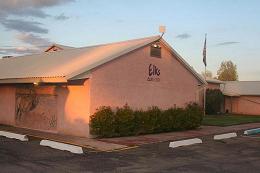 Address: 247 E. Stewart St. Willcox, AZ 85643
Willcox Lodge #2131 welcomes all visiting members. Lodge meetings are held on the 2nd Tuesday (May - Jan) and the 2nd & 4th Tuesday (Feb - Apr) all at 7 p.m.
Our lounge is open Monday through Friday at 4:00 p.m and Saturday and Sunday at 2:00 p.m.
The RV Park is open to Elk members in good standing. Come enjoy a stay with us. Please be sure to call during business hours to ensure availability the day before arrival. 520-384-2131. For group reservations (12 or more) please contact our Club Manager Michelle Wilson: Michelle.elks2131@gmail.com or 520-507-6901.
Dues Renewals can be paid online: https://search.revopay.com/elkslodge
When renewing, you do not have to register for an account; you can click on the "Make a Quick Payment" button. When it asks for your membership number it should be 6 digits (you have to input the leading zeros).