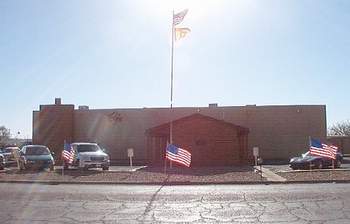 Welcome to the Clovis Portales Elks Lodge #1244 in Clovis New Mexico. We are glad to have you here! Please come in, look around and visit for awhile.
Address:. 218 Sycamore Street 88101 PO Box 191 Clovis NM 88102-0191 (575) 762-9598

Lodge Board of Directors and Board of Governors Meetings - 1st Thursday of the month at 6:30 PM. Lodge business meetings on the 2nd Wednesday of the month at 7 PM. except July, August. Lodge initiation meetings the 4th Wednesday of the month at 7 PM except in December.
Initiation Fee $50.00 - Annual Dues $75.00 + Assessments

If you would like to see the upcoming events at our lodge check out the:
If you would like to see some of the events that have taken place at our lodge and some of the charity work that we do please take a look at our