Lodge #577 Home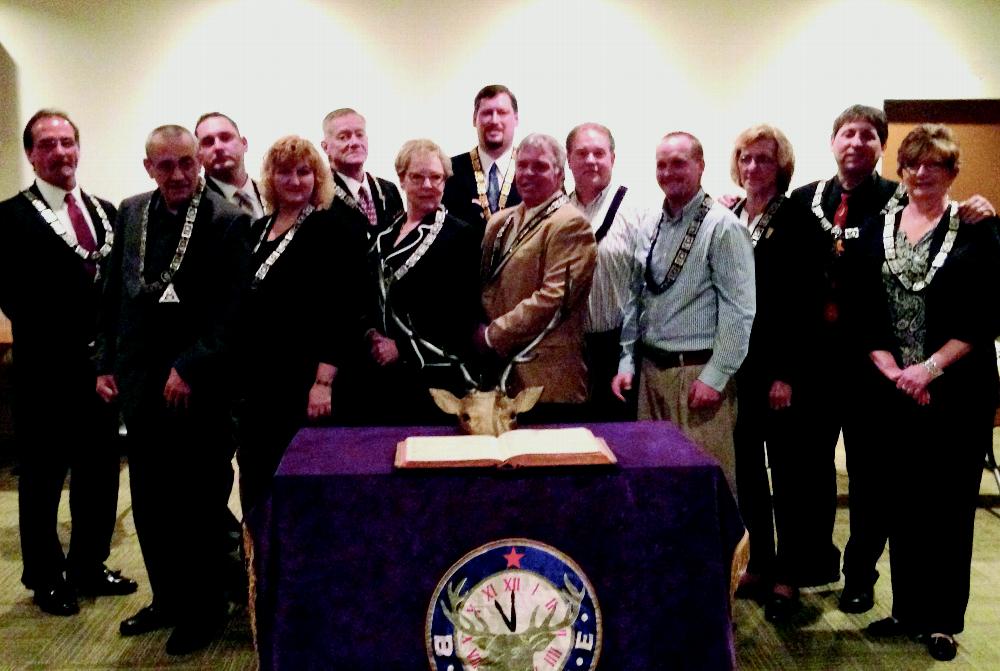 Wilkins Elks 577 Lodge newly elected Officers and Board of Trustees: Foreground is Exalted Ruler, John Weber. L-R are: Trustee 2 Yr: Duane Clayton; Trustee 1 Yr: Tom Stead; Esteemed Lecturing Knight: Derek Kerfoot; Secretary: Roni-Sue Stevens; Esteemed Leading Knight: Tom Herron; Esteemed Loyal Knight: Carol Steele; Trustee 4 Yr: Bob Hensell; Trustee 5 Yr: Ed Martin; Trustee 3 Yr: Dave Koerth; Inner Guard: Dorothy Szurlej; Esquire: John Biros; Treasurer: Arlene Wilson Walter
WELCOME!
Wilkins Elks 577 Lodge in Turtle Creek, PA has announced its new officers and board trustees with John Weber as its new Exalted Ruler (E.R.) for its 2014/2015 year.
Says Weber, "As I begin my term as the 577 Lodge E.R., my primary focus is to continually remind our Members and make the community at large more aware of our Order's cardinal virtues - Charity, Justice, Brotherly Love, and Fidelity.
A few years ago, the 577 Lodge Membership count was a little over 350 - today we are nearing 500 with 474 members (+35%). To have that many new members join our mission in that short amount of time is historically unprecedented.
We thank Past Exalted Ruler (P.E.R.) Craig Stevens, fellow officers and trustees that were at the helm these past two years for these positive results. But it also takes a membership that is living by these core virtues. In the year to come, I feel that this will only continue with our new officers and board of trustees equipped with an ever-intensifying passion to drive our mission. I want to thank everyone for their confidence and look forward to serving the 577 with vigor, enthusiasm and love of the Benevolent, Protective Order of the Elks."
The Wilkins Elks was recently awarded 1st in the Commonwealth and 4th nationwide for raising funds for the Elks National Foundation which, in turn, provides millions in college scholarships for our youth, honoring our veterans, and help meet needs in areas where Elks live and work. ENF programs continue to grow each year, allowing Elks to do even more to build stronger communities. Since inception, the ENF has contributed more than $384.1 million toward Elks' charitable projects nationwide.
Wilkins Elks ENF Chairperson, Andrea Loughner took first in the Commonwealth in the Annual ENF Chairman Challenge with a 139.6 point total (out of a possible 165 points). Ms. Loughner is #1 in the Commonwealth and #8 nationally.
Additionally, the 577 Lodge member per capita is at $11.78 – far surpassing the Elks National average at $7.46 placing the Lodge 4th in the Commonwealth, 1st in its District (310-500 member category).
With over 113 years of service to our members and community. We are widely known for our "Caring and Sharing". A great place to meet with family and friends, and get involved in community projects.Visit us on FACEBOOK to learn more about our "Pay it Forward" and ENF events!
---
Back to top