Lodge #2362 Home
Welcome to Oak Harbor Elks Lodge #2362.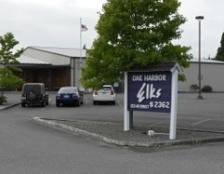 Our Lodge Social Quarters are open
Monday - Thursday 1 - 9pm

Wednesday
Dinner served from 5:30 – 6:30pm.

Friday
Bar Hours: 1 pm – 12am
Saturday & Sundays Closed
Bar Bingo - Check Calendar... dates fluctuate wildly.
Please continue to RSVP for Wednesday dinner specials, it lets us plan and eliminate waste.
Please have your order in by 2pm on Wednesday if you desire the special.
Call (360) 675-7111 for more details.
Looking for our Newsletter or Calendar?
Click on the "News" Button on the left!
Follow us on Twitter @OakHarborElks
Like us on Facebook - Oak Harbor Elks Lodge 2362
---
We have great facilites and activities, please check out our offerings in the "News" and "Facilities" section on the left!
We love to have visiting Elks, drop by any time you're in town!
We hold Lodge meetings at 7:00 p.m. the 2nd and 4th Thursday evening; except November, the 2nd and 3rd Thursday; and December, the 3rd Tuesday.
Directions: We are located at 155 NE Ernst St, Oak Harbor, WA
Turn left off Hwy 20, we are located next to Flyer's.
Not a member?
Want to find out more info about the Elks and how to join? Check out the "How to Join" button on the left.
---
Back to top