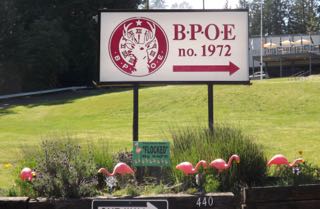 Sweet Home Lodge 1972
440 Osage St
Sweet Home, OR 97386
Lodge Meetings are held on Wednesdays at 7 PM.
Our Initiation night, is the last Wednesday of the month. We have a nice Friday night dinner, great food at a reasonable price. Check the calendar for menu and prices. If a large group is planning to attend - RSVP is needed and appreciated.
Tuesdays are PER Taco Tuesdays from 5pm to 7pm.
The first and third Sundays of the month, our Elkette Auxiliary hosts a breakfast between 8 -11 AM. Adults $8.00, children under 12 are $4.00. To go meals are all $8.00 per plate.
All profits from this help with various Lodge functions and charities.
Sweet Home Elks and Elkette work together to support state charities and the local community also. We award a local Elks scholarship to deserving students each year.
The Lodge Social Parlor, the "Elk Horn Saloon" is open Tuesday through Saturday. Texas Hold 'Em games are held in the lounge every Tuesday Night Thursday Night and Saturday afternoon. These are friendly games with a small donation going to our local scholarship funds. A robust bar menu available during open hours.
RV Parking - Sweet Home has a spacious area to hook up small trailers to very large motor homes, with electric and water hook-ups ( we do not have dump station) *** Note – The entrance to Osage has a very steep incline that could be hazardous to RVs with an overhang of two feet or more. It would be best to take a right on First Avenue, then turn right on to Nandina, then right on to Westwood Street, then left back on to Osage to avoid the steep incline.
The Sweet Home Lodge also has a fitness center, a secondary meeting room, and a small park with horse-shoot pits and tables.
Come by and experience our friendly lodge!