Lodge #1904 Home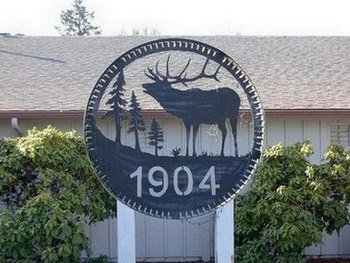 Welcome to Cottage Grove Lodge 1904. Come visit our warm and friendly lodge.
Lodge meetings are held every Thursday at 8 P.M.

We are located at 755 N River Rd. Cottage Grove, OR.

Lodge Hours:
Pool League Schedule Effective January 8 until May 31 Open Monday and Closed Tuesday
Monday, Wednesday & Thursday 5:00PM to 9:00PM

Friday 4:00PM to Closing

Sat 2:00PM to Closing
Closed Sunday and Tuesday unless a special event is scheduled.
Dinners are Friday from 5 to 7 pm
1st Friday is the Emblem Club Chicken Fried Steak
2nd Friday is Dinnels Chicken Dinner
3rd Friday is Steak Feed
4th Friday is Fish Fry
Every 4th Sunday we have an all you can eat breakfast from 8 to 11am
Bingo Burgers is every Wednesday from 5:30 to 7pm
Bingo is every Wednesday except for the months of July and August
Bingo Warm ups start at 6:30
We are also on Facebook

Please send inquiries, suggestions for Gazette, or corrections to Gazette to: Elks1904@ymail.com
---
Back to top