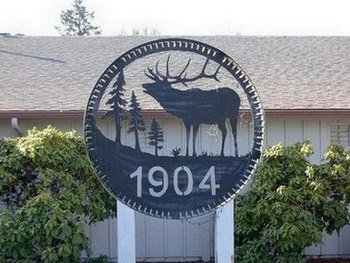 Welcome to Cottage Grove Lodge 1904. Come visit our warm and friendly lodge.
We are located at 755 N River Rd. Cottage Grove, OR.
Lodge meetings are held every Thursday at 7:30 P.M.


Lodge Hours:

Wednesday, Thursday, Friday, and Saturday we open at 5:00PM

Closed Sunday, Monday, and Tuesday unless a special event is scheduled.
Dinners are Friday from 5 to 6:30 pm
1st Friday is Chicken Fried Steak
2nd Friday is Chef's Choice
3rd Friday is Steak Feed
4th Friday is Fish Fry
5th Friday is Chef's Choice
Bingo Burgers is every Wednesday from 5 to 7pm
Bingo is every Wednesday
Bingo Warm ups start promptly at 6:30pm
We are also on Facebook at Cottage Grove Elks 1904 Members Page
Our website is www.cgelks1904.org

Please send inquiries, suggestions for Gazette, or corrections to Gazette to: elks1904@ymail.com