Lodge #1342 Home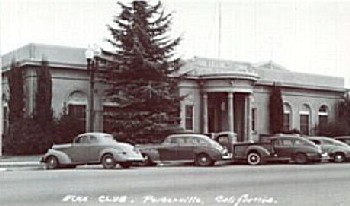 Pictured above is a postcard of our lodge as it was circa 1940's.
PORTERVILLE B.P.O. ELKS #1342 (SINCE 1917) 386 N. MAIN STREET (Main & Morton) Porterville, CA 93257 Our regular membership meetings are on the second, and fourth Thursdays at 7:00 PM. Exceptions: (July & August, fourth Thursdays only.) Our Lodge members are encouraged to attend these sessions.
House Committee Meeting: First Thursday of the month at 6:00pm
Trustee Meeting: 2nd and 4th Thursday of the month at 6:00pm
DIRECTIONS From CA-65. 1. Take the HENDERSON AVE ramp. 2: Turn EAST onto W HENDERSON AVE (1.1 miles). 3: Turn RIGHT onto N Main Street (0.5 miles). 4: End at 386 N Main Street.
---
Back to top