Welcome to the Winthrop Lodge of Elks #1078
191 Washington Avenue, Winthrop, MA 02152
PER LOUNGE: (617) 846 - 9858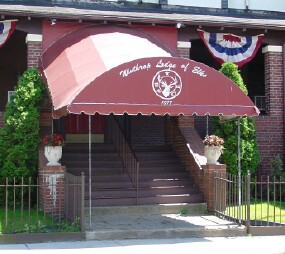 Greetings from the "Aruba of the North"
CHRISTINE DALY, Exalted Ruler (PER)
TAKE NOTE: Dues renewal payments may be made online using the following link:
1. Search for Your Property Name to Make Payment (enter 1078 and select)
2. Then click HERE on the screen to go to the payment page of Winthrop Elks 1078
3. Choose Make a Quick Payment button (Login not necessary)
4. Enter your member# in the box and click the Verify and Continue button
5. Confirm your payments details and continue to payment method
6. Review and Approve
When renewing, you do not have to register for an account; instead, you can click on the "Make a Quick Payment" button.
HALL RENTAL INFORMATION - please contact our Function Manager:
Doreen Gillis at (617) 331-2751 or (617) 207-1429.
If you reach her voicemail be sure to leave your full name, phone number, and a detailed message. Otherwise, you may send an email to winthropelksfunctions@gmail.com.
INTERESTED IN MEMBERSHIP INFORMATION - Contact our Lodge Secretary Nancy Ranahan at (617) 207-1590 or via email to secretary1078@comcast.net.
*** Elks Care - Elks Share ***