Lodge #0322 Home

Latest News
PER Perspectives
Past-Exalted Ruler, Teresa Lara
Every month on the 3rd Thursday at 5:30 pm you can find the PERs gathering for their monthly meeting, cocktails in hand. Unfortunately, we don't always have a quorum but we do work with what we have in those months, UNOFFICIALLY. In January, the meeting was unofficial but I got to really talking with our Most Present and Most Active Senior PER who continues to show up on those 3rd Thursdays as well as work behind the scenes tirelessly for our Lodge, a man who we all know and love, Mr. Bill Smith. He clearly has years of knowledge and experience and presented an idea that I just love! We talked with two members who were right next to us Miss Terri Kahn and Mrs. Kathy Devaney and they both loved the idea as well and are interested in helping out. So, I have taken on another task at SLO322 agreeing to be the ringleader of this idea and we are running with it.
We have committees in our Lodge, whether it be ENF, Scholarship, Major Project, Student of the Month, Halloween, etcetera but what we are missing (and have had in the past) is a formal Party Planning Committee. Originally it sounded overwhelming to take on another task at the Lodge until Bill really broke it down for me. This Committee is not going to be responsible for every party in the Lodge. What we are going to do is come up with the ideas, get the ball rolling and help advertise to and inform the members. In a perfect world, I would love to see one gathering or event per month outside of what we already do. It can be a low-key gathering or a big event but the bottom line is it would to be a place for Members to socialize, relax and enjoy each other as well as their Lodge.
We will start with getting a small group of people together and exchanging ideas big and small. Movie nights with older cult classics and a pasta feed, utilizing the card and game room for Poker nights or a Ping Pong Tournament, starting a SLO322 book club, bringing back Karaoke, bringing in Comedians for a show, the ideas are limitless. We can add new ideas onto existing events and nights or start something brand new.
If you are interested in helping to get our Lodge more active within itself by providing social opportunities through the Party Planning Committee, please drop me a line via email at publicity@sloelks322.com.
I can guarantee we will have fun resurrecting this Committee together, over cocktails.
With Brotherly Love- Teresa Lara, PER Association President (and now PPC Chair)
Veteran Support
Welcome Home Gift Boxes - We "adopted" 17 previously homeless Veterans recently housed in an apartment complex. In November we fulfilled wish lists totaling $2,055 of gifts. They all received a sweat outfit, socks, T-shirts, undergarments, kitchenware, homeware, cleaning supplies, hand tools, and bicycle tires. The gifts were delivered by Lily & Curt Aanerud, Randy Arseneau and Gary & Donna Donovan.
SLO Veterans Apartment Lobby Decorating - An artificial tree was donated and decorated by Ron & Liz Schmitt and Gary & Donna Donovan. The Community Room was decorated by Vivian Boaz. Total non-cash value- $263.65.
Holiday Donations to Fresno VA Hospital & CLC/Rehab - Donations collected for November 1st to December 12th were delivered in a trailer-full on December 15th by Gary & Donna Donovan and Ron & Liz Schmitt. Donations included handmade afghans, sweat outfits, undergarments, toiletries, reading glasses & cases, coffee & supplies, calendars for patient rooms, puzzle books and playing cards. Total non-cash value- $15,217.
SLO Vet Center Donations - On December 18th we delivered $59.40 of goods including decaffeinated coffee, sugar free candy, an assortment of peanut butter crackers and cookies.
SLO VA Clinic Donations - On December 18th we delivered $124 of goods including cans of orange juice, an assortment of peanut butter and cheese crackers (including for diabetics) and candy canes for the snack cart.
Donna Donovan, Veterans Services Chair
fishingdonna@charter.net
Elks Donor Program
Any age is the right age to share the gift of life. In your 50s, 60s, 70s, or older? You've already made a big difference in the world— but we still need your help. Regardless of your age or health status, you can save and improve lives by signing up as an organ, eye, and tissue donor. Join more than 100 million registered donors and sign up today.
Go to donatelife.net or organdonor.gov for more information.
Games are held on the 1st and 3rd Wednesdays of the month. Doors open at 5pm. Earlybirds start at 6pm. Bring a friend or family member!
(Dates subject to change please check the monthly calendar.)
Subscribe to the Elks Calendar on your Smartphone
You can now subscribe to the Elks #322 calendar with your smartphone. Follow the instructions below to get started.
Calendar Subscription Link: https://goo.gl/gT8HtK
iPhone Instructions
Copy the Calendar Subscription Link above.
Tap on the Settings icon from the iPhone's home screen.
Tap on Mail, Contacts, Calendars from the list of device settings.
Tap the Add Account button and select Other in the list of account types.
Choose the Add Subscribed Calendar option at the bottom of the screen.
Enter the Calendar Subscription link above in the Server field. Tap the Next button.
Enter a custom description for the calendar and tap Next once more to finish adding it to your iPhone.
Android/Google Instructions
Copy the Calendar Subscription Link above.
Log into your Google Calendar account in a web browser and click the down-arrow next to Other calendars.
Select Add by URL from the menu.
Enter the paste the Calendar Subscription link in the field provided.
Click the Add Calendar button. The calendar will appear in the Other Calendars section of the calendar list to the left.
The new calendar will now be synced to your Android phone
Elks YELL & Calendar

About the Lodge
We are open daily from 10am until 10pm.
(805) 543-0322
Lodge 322 meetings are held on the first and third Tuesdays @ 7:00 PM
Please check our News page for the latest happenings at Lodge 322.
Wireless Internet Available
You can now bring your personal computer into the lodge to check your emails or google any information you may need all while dining, enjoying a libation or visiting Lodge 322.
Elks RV Storage
Our brand new SLO RV storage facility is open to ALL Elks Members as well as the general public! Rent your spot now! Call (805) 543-0322. Elks Lodge #322 offers a clean, safe and secure location for RV & Boat Storage. This is a popular service with a current 2-year wait list so reserve your spot in our SLO RV Storage Facility for your recreational vehicles today.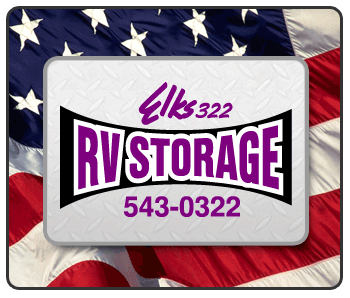 ---
About San Luis Obispo
San Luis Obispo (Spanish for St. Louis, the Bishop of Toulouse) is located roughly midway between Los Angeles and San Francisco on the Central Coast of California. Founded in 1772 by Spanish Fr. Junípero Serra, San Luis Obispo is one of California's oldest communities. The city, locally referred to as San Luis or SLO is the county seat of San Luis Obispo County and is adjacent to California Polytechnic State University.
---
Back to top