Cortland, NY Lodge News
Cortland Lodge 748 Chill-A-Brations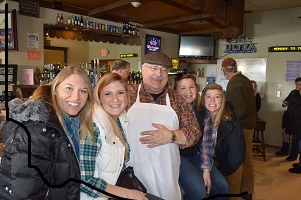 Chill-A-Brations at Cortland Lodge 748
On February 24th the Cortland Elks Lodge took part in Downtown Cortland event that brought nearly four hundred people through the doors of the Lodge. Chill-A-Brations was much more that an event that allowed our lodge to show off its culinary skills in the preparation of chili but it was an opportunity for the Lodge to show how Elks really are.
The room was decorated with signs showing all the wonderful events and charities we support. As people entered the room they couldn't help but see two huge banners draped across the mapping our theme, "Elks Care-Elks Share."
Please take the time to visit the photo section of our lodge. Read the newsletter to discover what has, and will be taking place at our Lodge. Visitors, if you would like to learn more about our organization please email at Cortlandelkslodge748@gmail.com or call the Lodge at 607-756-9748.
Don't forget to sign our web-site and leave a comment.
ER John Pinto
---
Back to top