Cortland, NY Lodge News
Elks Family Fun Night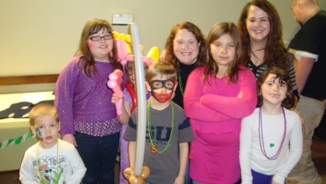 On Saturday, March 8th Family Fun Night at the Cortland Elks Lodge took place. It was a very successful event because of the efforts of two outstanding Elks. Angela and Jenni we are so appreciate of all the time, effort, and love you put into this event. I'm sure there are a number of children, parents, grandparents and great grandparents that would also like to thank you. The day was an opportunity for every to have a good time with kids. We are also so appreciative to all those that helped: The DJ, Balloonman, merchants that donated items, Elks…….. What a great time to share and show what Elks are about.
Also held at the Cortland Elks was a on Saturday March 1st was a cancel event. Hundreds of people visited the Elks in support.
****Go to our Photo Gallery to see pictures of thes wonderful events.
Thanks everyone,
ER John
---
Back to top