Somerset County deputy honored by MEA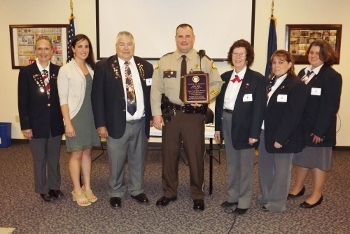 The Maine Elks Association presented the Grand Lodge of Elks Enrique "Kiki" Camarena Drug Awareness Award to Deputy Joseph A. Jackson of the Somerset County Sheriff's Department on May 23. This award goes to the top law enforcement officer in Maine who has made a significant in the field of drug prevention.
The presentation was made by immediate Past State President John Nicholson and State MEA Drug Awareness Chairman J. Andy Bolz.
Deputy Jackson was recommended for the award by Sgt. Michael Knight and nominated by Jessica Herbert, the Drug Awareness Committee Chair of the Skowhegan-Madison Elks Lodge. Jackson was the first Somerset County law enforcement officer to receive the award.
Members attending the ceremony, in addition to Jessica, were Lecturing Knight Cathy Voisine, Exalted Ruler Ron Voisine, Past Drug Awareness Chair Bobbi Alley, Secretary Andrea Ducharme, Tiler Melinda Beckwith and State Trustee Mike Lange.