Rick York named Father of the Year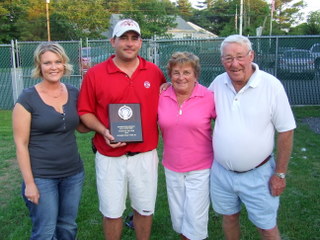 Friday, June 18 was one of those nights when the guest of honor was late for his own party.
But it was no surprise. Richard York Jr., known to most people as Rick, was involved in one of the major reasons why he was being honored in the first place: coaching youth baseball.
York was named the Skowhegan-Madison Elks Lodge Father of the Year at the fraternal organization's annual Father's Day weekend barbecue, and was presented with a plaque and embroidered cap by Veteran's Committee Chair Susan Horsman.
"Tonight, we're proud to honor a young father who has had a tremendous, positive influence on the youth in our community," said Horsman. "In addition to being a dad to daughter, Elizabeth; son, Chase; and a very young son, Eli (16 months old); Rick has coached baseball at nearly every level for years, including the Skowhegan High School varsity team. Everyone around him knows how much he cares about the kids, and we're equally proud to recognize him."
Horsman also noted that York's family-owned business, Motor Supply, has been extremely generous to the lodge over the years. "When we need door prizes or raffle items for any other charitable fund-raiser, they always say yes," said Horsman.
York's wife, Jen; his parents, Richard and Joyce York; and the lodge's two previous Fathers of the Year – Edward "Ned" Goff Jr. and Roger Jarvais – were among the attendees at the barbecue and ceremony.
York also said that the award was a complete surprise. "I was ready to have a quiet evening at home, but Jen insisted that we go to the Elks. Even when I was sitting at the table with mom and dad, I had no idea what was going on," said York.
The Father of the Year barbecue is also one of the major fund-raisers for the lodge's Veteran's Service Committee, which donates hundreds of dollars to assist local veterans and to programs at U.S.V.A. Hospital at Togus.
All the food for the event was donated by lodge members, and Ricky Stewart – the exalted ruler or lodge president – cooked most of the food.