Bemidji, MN Lodge News
Teddy Bear Donation a Success!
Leading Knight Candace West arranged for Elk members to bring a teddy bear or stuffed animal to the July dinner. With an overwhelming response, members were able to donate over twenty stuffed animals to the Bemidji Fire Department. The response teams give these stuffed animals to children under duress. In times where hope seems bleak, children are given a comfort to depend on. If you would like to donate a stuffed animal, you may do so by dropping them off at the Bemidji Elks Lodge, the Bemidji Fire Dept. or the Bemidji Police Station.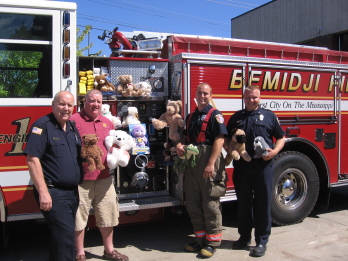 ---
Back to top