Rochester Elks #1393 announce Local Hoop Shoot Contest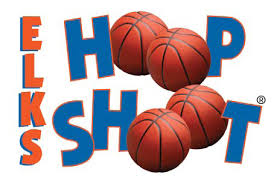 Attention all children ages 8 to 13 in the Rochester Area!
The annual Rochester Elks Hoop Shoot Contest will be held at the Rochester Community Center gym located at 150 Wakefield St., Rochester, NH on Saturday, December 18th, with registrations starting at 8:00 AM. The contest will run from 10:00 AM to Noon. Remember to bring your child's birth certificates for registration (required to verify age). The event is open to all boys and girls from ages 8 to 13. Trophies will be presented to the 1st and 2nd place winners of the boys and girls in each age group. Winners of this contest will move on to the District Contest in January, 2022.
How did this contest get started? While observing a group of boys playing basketball in 1946, the late - Elks Past National President Frank Hise noticed that the smaller kids had a hard time keeping up with the others. To level this imbalance, he organized a free-throw contest where every kid could participate. On that day, the Elks Hoop Shoot was born. But, it wasn't until 1972 that the program held its first national finals in Kansas City, Mo.
The Elks Hoop Shoot is almost 50 years old and has been a very successful youth program. Each contestant shoots 25 free throws to determine the winner in each age category. Winners can then compete in the District, State, Regional and National Championships if they win at each level. The Nationals are currently being held in Chicago, Illinois. Winners and their parents / guardians are provided complimentary hotel and travel arrangements at some of the various levels of competition beyond the local contests conducted by the Lodges.
Each year, the six Hoop Shoot National Champions have their names listed alongside their picture in a digital exhibit in the Naismith Memorial Basketball Hall of Fame in Springfield, Massachusetts. Additionally, two of the Frank Hise National Champions are in attendance when the Hall of Fame inductees are honored at the Enshrinement Ceremony.
For more information, contact Event Chair Peter Ducharme (email: pete_d603@hotmail.com )