Arcadia, CA Lodge News
Scholarship Awards Dinner - July 14, 2017
Arcadia Elks Lodge 2025 presented Certificates and Checks to Most Valuable Student Scholars at a Special Dinner on July 14, 2017. Of the 39 MVS Applications submitted, Arcadia Lodge had six (6) scholars go on to the District Level. Three of them were winners at the District or State Level while two of them went on to be Runners Up at the National Level.
The recipients of the Scholarships were as follows: Lauren Powers (Lodge Level $100), Angela Tran, Jack Ding, Adrian Lim (District Level $300 each), Camilla Leonard, Justin Yeung (National Level $500 each).
Shown below are Scholardhip Chair Dorothy McCain and three of the Awardees that attended the dinner.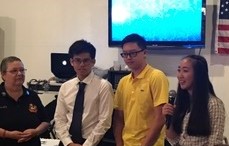 L to R: Dorothy McCain, Justin Yeung, Adrian Lim and Angela Tran.
---
Back to top