Southampton, NY Lodge News
Southampton Lodge's Golf Committee presented donation checks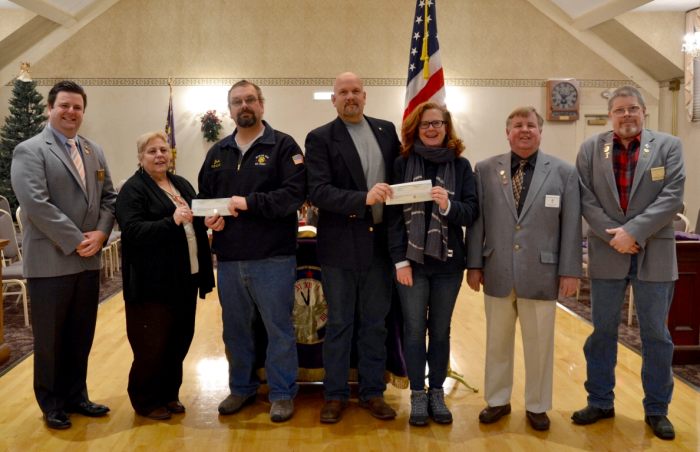 Shown above (L to R): Exalted Ruler Rich Lalomia, Anna Capazelli of Southampton Hospital's Coalition for Women's for Women's Cancer, Co-chairmen of the lodge's Golf Outing John Washabaugh and Ken Oliver, Leading Knight Dave Raynor, and Past District Deputy and lodge sponsor Fred Follett.
This past September, new members John Washabaugh and Kenny Oliver saw the fruition of many months of planning, organizing, and fundraising at the Southampton Elks Golf Outing. Having recently joined Benevolent and Protective Order of Elks they immediately wanted to get involved in the Order. They found an opportunity in the Lodge's annual golf outing. The Southampton Lodge holds a golf outing every year and donates the proceeds to local charitable causes. This year the Southampton Elks choose two local charitable organizations to donate the proceeds to: The Southampton Hospital Coalition for Women's Cancer and the Animal Rescue Fund (ARF). Through John and Kenny's hard work the Lodge raised six thousand dollars to donate to these two causes. They were able to secure several corporate sponsors and numerous donations from local businesses, which made this such a successful event.
Charity is the highest virtue of BPOE and we believe it should ever rule us in our hearts and in our lives. John and Kenny have demonstrated that belief and have shown our community what the BPOE is all about.
---
Back to top