Southampton Elks play major part in donation of a (third) transportation van to Disabled American Veterans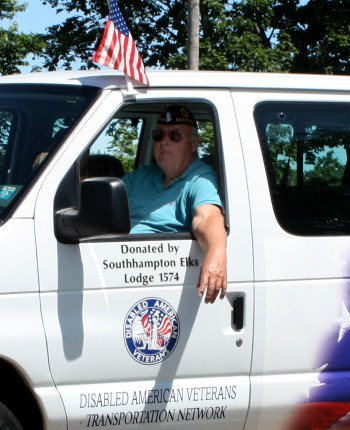 Our late Southampton Elks member Peter Magnuson -
DAV transportation van volunteer driver
On Saturday, April 30, Southampton Elks Lodge 1574 presented the Disabled American Veterans Charity (DAV) with a new 11 passenger (plus cargo space) van to transport East End veterans to and from appointments at the Veterans Affairs Medical Center in Northport which was dedicated in memory of a longtime active Southampton Elks member Peter Magnuson.

The project represents more than a year of fundraising from several charities and veterans groups with which Pete was deeply involved. Most notably, Past Elk Exalted Ruler George Doering and American Legion Post 269 Commander George Egan spearheaded the fundraising to raise over $20,000 to make this purchase possible.
The DAV is a charitable organization for service to veterans, and one of their missions is to provide free door-to-­door transportation for disabled veterans attending medical appointments. The vans are all coordinated and driven by volunteer veterans in the area.
During his time with the Elks, Pete strongly advocated for the needs of local veterans. Most prominent was his participation with the Lodge's Golf Outing Fundraising Committee. Through their many efforts, the Elks were able previously to purchase two DAV transport vans, still serving eastern Suffolk today, and Pete was very often behind the wheel of one as a volunteer driver.
After Pete's passing in 2014, George Egan, Commander of American Legion Post 269 in Patchogue, and a few of Pete's friends who also volunteered as van drivers, decided to raise money to buy yet another van, this one to be dedicated in Pete's honor. Southampton Elks Lodge initially donated $1,000 to the cause; and Chairman/Past State Trustee/Past Exalted Ruler George Doering of Southampton Elks Lodge ran a very successful fundraiser at our Elks lodge for the cause, and additionally secured donations from various other sources to ultimately finance the purchase.
The ceremonial presentation of the van was attended by Elks NY State President John Jacques, Elks East District Sponsor Martin Rosenthal, Elks East District State Vice President Ed Rosavitch, Elks District Deputy Henry Ross, Elks District Veterans Chairman Nicholas Feliciano, Southampton Lodge Exalted Ruler Richard Lalomia, Southampton Lodge Leading Knight David Raynor, and Jeanette (Mrs. Pete) Magnuson and the Magnuson family.