Southampton, NY Lodge News
Southampton Elks' Flag Day Observance & Ceremony was held on Sunday, June 12th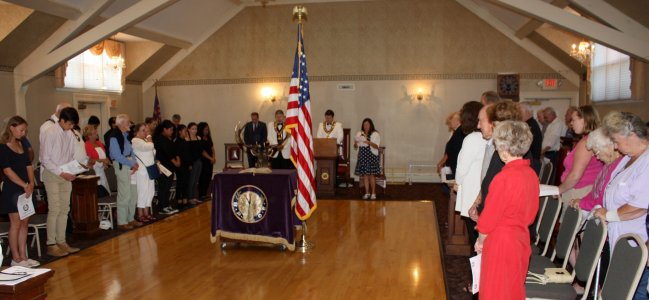 Continuing a 108-year tradition, Southampton Elks Lodge 1574 held its annual Flag Day festivities on Sunday, June 12th, with community members and local leaders joining to celebrate the Stars and Stripes and to recall the achievements attained beneath its folds.
Early in the ceremony, Elk Ryan Horn presented a history of the various evolving banners of the Republic - from England's Cross of St. George to the nation's present standard. One by one the Boy Scouts of Troop 58 Southampton slowly entered the chamber, proudly carrying each flag variant as it was announced. Scoutmaster Thomas Speckenbach presented the final flag of 50 stars and thirteen stripes.

Punctuating the procession was a moving medley, offered by "The Voices of Southampton" of Southampton High School, and led by the Mariners' Choral Teacher, James Tartaglia.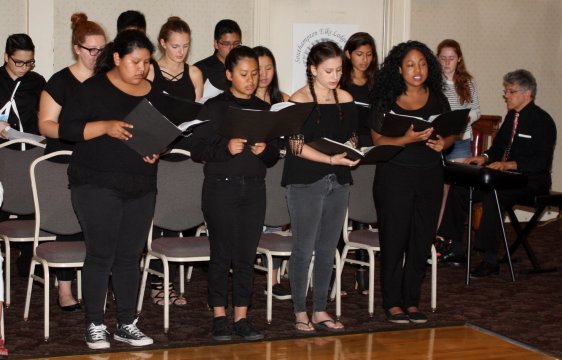 "Everyone did an excellent job," said our lodge's Exalted Ruler, Richard Lalomia, who followed with an introduction of the day's guest speaker, Congressman Lee Zeldin of Shirley. Zeldin, a former New York State Senator who was elected to the House of Representatives in 2014, and was previously a paratrooper with the elite 82nd Airborne during Operation Iraqi Freedom. He also presently holds the rank of Major in the US Army Reserves.
But homage wasn't the only thing paid this Flag Day..
The Southampton Elks presented Katelyn Corwith of and present on behalf of Honor Flight Long Island with a donation in the amount of $3,500 to further the group's mission of transporting veterans to the nation's capitol to view their respective memorials..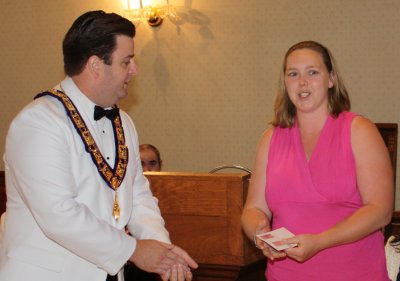 In delivering his patriotic address, Congressman Zeldin stressed the importance of contributions such as these given that, "With each passing year, there are fewer and fewer World War II veterans who are able to make the trip." A leading member of the House Veterans Affairs Committee, he added that Suffolk County has the largest population of veterans in New York State, and has the second most veterans of any county in the nation..
In addition, the Lodge awarded two scholarships of $1,000.00 each to Southampton High School seniors. Lauding both of the outstanding students, Elks Scholarship Chairman Jack Capute presented Cloe Hase with the Joseph Chiacetti Memorial Scholarship, and Michael Minogue with the John Aluskewicz Memorial Scholarship. See separate article on this website for more details.
Since 1908, the Benevolent and Protective Order of Elks have held annual ceremonies to commemorate and honor our nation's flag, and to reflect upon its significance to the nation and local community. In doing so the Elks are the first and only fraternal body to require formal observance of Flag Day, and have been recognized as the strongest promoter of the occasion. The congressman ratified that recognition when he presented the Lodge with a congressional citation for its "continued efforts to promote patriotism and honor our veterans."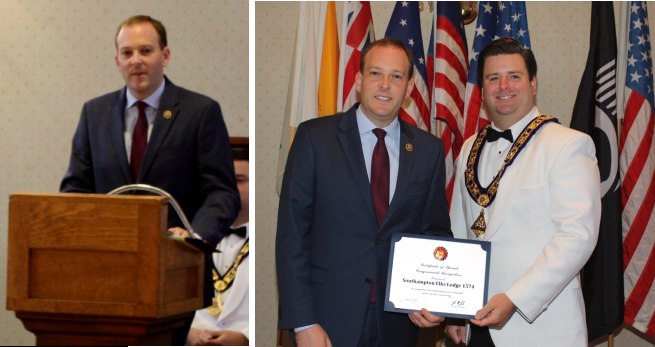 "It is quite appropriate that such a ceremony be held by the Order of Elks," said Lalomia. "Our organization is distinctively American, intensely patriotic, and without counterpart."
---
Back to top