Canoga Park, CA Lodge News
2016 - 2017 Officers Installed
Congratulations to all the Officer Corp for 2016 - 2017 who were installed on April 10th. Thank you to the District Officers who performed the installation. Approximately 100 were in attendance - Thank you for your support.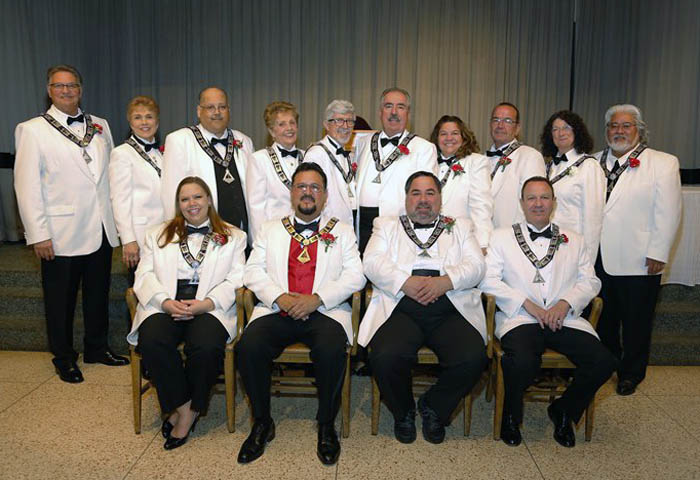 Front Row L to R: Loyal Knight Rhianna Roman; ER Ron Esquibel; Leading Knight Bruce Hershkowitz; Lecturing Knight Mark Fishlowitz; Back Row L to R: Treasurer Terry Wiltsey; Inner Guard Laurene Underhill; Tiler Dave Moreno; Esquire Charlene Brennan; Secretary Mike Gallagher; 3 Year Trustee Randy Lewis; Chaplain Mary Esquibel; 5 Year Trustee Bill Sutton; 1 Year Trustee Cheryl Kobashigawa; 2 Year Trustee Kenny Kobashigawa.
ER Ron Esquibel presents PER Jo Lamoreaux Plaque Trustee Randy Lewis presents PER Jo Lamoreaux gift from Lodge
Frank Farquharson DDGER, PER presents gavel to ER Ron Esquibel Lynne Davies CVP, PER introduces Leading Knight Bruce Hershkowitz
Dave Sowger PER introduces Loyal Knight Rhianna Roman Erick Lace PER introduces Lecturing Knight Mark Fishlowitz
Bobby Medellin PER introduces Secretary Mike Gallagher Bobby Medellin PER presents Treasurer Terry Wiltsey
Gregory Peale DDGER, PER introduces Esquire Char Brennan Peter Marshall PER introduces Chaplain Mary Esquibel
Chuck Schaefer DDGER, PER introduces Inner Guard Laurene Underhill and Tiler Dave Moreno
Noor Chowdry CVP, PER introduces 5Year Trustee Bill Sutton 2016 - 2017 ER Ron Esquibel at the helm.......
---
Back to top