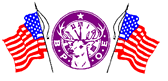 (The newsletter files below are in PDF format which are readable with Adobe Reader Software)
Download a free copy of the software The TRACK newsletter is available via Email!
If you'd prefer to receive the TRACK electronically instead of by "snail mail." * Email the TRACK Editor * Click the month below to read the respective ELKS' TRACK Newsletter. For August 2019.
* Click here to read the Grand Lodge Newsletter
The file is currently unavailable or has been deleted. Contact the Lodge webmaster elks1497track@aol.com for further information.