Lodge Facilities
Big Bear Lake Elks Lodge #1787
Our Lodge is located high in the San Bernardino National Forest, at an elevation of 7,000 ft. We are at the entrance to the "Village" which is the heart of Big Bear Lake with the many restaurants, shops, marinas and chamber of commerce. We are located in one of Southern California's favorite four-season destinations for recreation and getaways. We have some RV spaces, and are in walking distance to additional lodging facilities. We have awesome bartenders, the friendliest lounge and a great volunteer staff. So take a break from the heat or plan a getaway to the mountains, and come visit us. You can email us at bigbearlakeelks@yahoo.com. Don't forget to check out our website calendar before you drive up the mountain...we always have something going on!! Our Lodge meetings are the second and fourth Wednesday of the month at 7pm. We serve dinner at 5:30pm before the meeting. Lodge address is 40611 Village Drive Big Bear Lake, CA 92315 909-866-ELKS Lodge email: bigbearlakeelks@yahoo.com Come visit us...we want to meet you!!!
Office Hours
The Big Bear Elks Lodge maintains office hours on Mondays and Fridays from 9:00am to 12:00 pm. There is generally someone in the office during these hours unless a holiday falls on one of these days.
The Club Room and Bar
A very friendly atmosphere...it's the altitude that makes the difference. We have a full cocktail bar, comfortable chairs and tables and barstools, and 5 flatscreen TV's. We also have a pool table, three steel tip dartboards, and indoor shuffleboard. Plus, we boast the best bartenders ever.... We also have a front bar area with an outdoor adjoining deck that has a million dollar lake view available for your small parties and special events. This is a really special area of the Lodge! We are open Wedensday to Friday from 2 pm to close (usually 7-8 pm.), and Saturday and Sunday from 12 to close.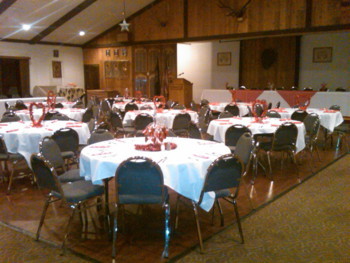 Lodge Room - Banquet Room
Our very sizeable Lodge Room looks out to the lake on one end and to the patio and rose garden on the other end. Our banquet facilities will accomodate up to 250 guests for breakfasts, luncheons and dinners, fashion shows, birthdays, quincianeras, bridal showers and wedding receptions, family reunions, club meets, special events, and just about any celebration or gathering you can think of. Our staff and volunteers will listen to your every wish and ensure it is accomodated for your event. We have a fully functional kitchen, bar/lounge areas, an outdoor adjoining patio/BBQ area, and the ability to acccomodate your meal and decor requirements.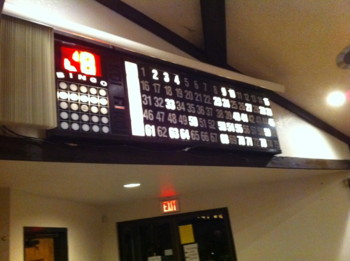 Friday Night Bingo
Our Lodge hosts the BEST BINGO night in the Bear Valley every Friday night...almost without exception. We start at 7pm in the Lodge Room. (Please check our calendar for details.) You may order dinner from the kitchen 5:00 - 7pm. The menu varies but usually offers fish and chips, burgers,etc. The food is great and priced right! Bingo also offers snacks and drinks for sale throughout the evening and ice cream is available for sale at the break. This is a fun night!!!
Overnight RV Parking and Hookups
We have 4 RV stations with hookups for 30 amp electric only and additional spaces without hookups. Lodge facilities are available to you and you are walking distance to the Big Bear Lake Village restaurants and shops. For more details on RV accomodations, please call 909-866-ELKS after 3:00 PM Wednesday through Sunday. Spaces are on a first come first serve basis. $30.00 per night.
---
Back to top