Lodge #78 Guest Book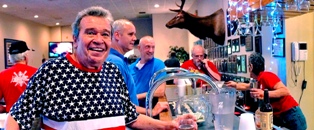 ---
from Bellefonte, PA, Lodge #1094
Walter, thank you for the wonderful conversation and tour. You have a lovely facility and I am so glad I took the time to stop by. Will stop by again when I'm in the area. Fraternally yours.
Posted 12/11/2019 at 8:25 PM
---
from Weiser, ID, Lodge #1683
My husband and I were just watching The Carbanaro Effect and saw your lodge. Nice! One of these days we will have to make a little journey and come visit your lodge. Nice to see the Elks on TV!
Posted 05/21/2016 at 5:02 PM
---
from Logansport, IN, Lodge #66
had a wonderful time , especially w ms.lynn
Posted 06/22/2015 at 4:02 PM
---
from Logansport, IN, Lodge #66
had a wonderful time , especially w ms.lynn
Posted 06/22/2015 at 4:02 PM
---
Back to top