Lodge #350 Guest Book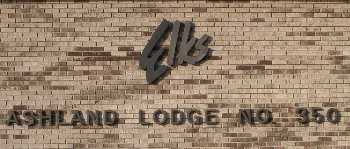 ---
from Ashland, KY, Lodge #350
Welcome to the new and improved Ashland Elks Lodge 350's webpage. Please leave us note and tell us about your visit, whether to the website or our lodge.
Thank you!!
Ronda Nixon Cyber-Assistant
Posted 08/19/2017 at 1:41 PM
---
from Ashland, OH, Lodge #1360
Hi My husband is a PER of Ashland Ohio Elks lodge #1360. His favorite beer cozy is yours, a purple one with gold letters that says "ELK'S LODGE B.P.O.E. 350 Ashland, Kentucky. I would like to purchase another one for him. I am more than willing to send the money for the cozy and shipping. my number is 5672413855. I am looking forward to talking with you. Thanks Jo Ray
Posted 03/04/2017 at 10:27 AM
---
from Holiday Isles, FL, Lodge #1912
I enjoyed visiting your lodge with my wife and children. Thank you for the wonderful hospitality that you bestowed upon us. Your use of the word family made my family and I feel right at home with our fellow elks. We can't thank you enough.
Posted 11/01/2013 at 7:41 PM
---
from Ashland, KY, Lodge #350
Great web site.
Posted 01/23/2013 at 9:36 AM
---
Yours is a very useful site . We at www.chennaiblossoms.com want to get affiliated to you.
Posted 11/23/2012 at 2:16 AM
---
from Tri-City, RI, Lodge #14
was very glad to see another suttles(sherry suttles) trustee, as a elk member. i am the loyal knight for tri-city elks lodge #14 in warwick, rhode island. i have been blessed to be a ELK!!!
Posted 09/14/2012 at 8:40 AM
---
from Ashland, KY, Lodge #350
It is a very good webpage.We at www.indiaflowerplaza.com want to get affiliated to you.
Posted 08/05/2012 at 9:00 AM
---
from Prescott, AZ, Lodge #330
Greetings from Prescott Lodge #330 "Mother Lodge of Arizona". In December of 1895 a group of enterprising businessmen in Prescott, sturdy products of the early west, charted the original petition for a dispensation and later established the Prescott Lodge. Prescott and Prescott Valley, Arizona, are located about 90 miles northwest of Phoenix. With our mile high elevation (5230 ft), the cities enjoy a four-season climate with both mild winters and summers. Check out our elks.org page. We have a very content rich elks.org site. Featured pages are [Facilites], [Officers], [Elks'n the News], [Extra Pages](includes rich history of our lodge) and especially our [Photo Gallery]. If you have time after looking it over please sign our [Guest Book]. Thank you
Posted 05/07/2012 at 10:08 PM
---
from Midwest City, OK, Lodge #1890
former member of #350 now belong to to midwest city, ok.lodge for 53 yrs. wonder if bill grey, cecil bush was still around and is richard moore the same one i went ash.high with
Posted 10/29/2011 at 9:08 AM
---
from Johnson City, TN, Lodge #825
Thank you all for a great visit to your lodge and allowing us to park our 40 RV in the lot. We toured the area and spent a fun filled evening at the bar where we met so many new friends and learned much about Ashland.
Posted 09/07/2011 at 7:17 PM
---
from Louisville, KY, Lodge #8
Hi, I would like to thank you for the hospitality shown our group on 9/19/2009. I was part of the group of 8 U of L fans that invaded your lodge to watch the UK - UL football game. Even thou we lost we still had a great time. Thanks for the friendship and brotherhood. We are looking forward to visiting again in Feburary during the state convention. Thanks again 'The Crazy 8s' Butch Seybold Lodge 8, Louisville Ky
Posted 09/22/2009 at 12:21 PM
---
The site of the railway. At http://railways.servebbs.net «web-site of the railway» will be posted descriptions of all the surviving until the present time or disassembled after the 1991 narrow-gauge railways in the territory of Russia and other republics of the former USSR. In addition to descriptions of narrow-gauge railways, the site posted some descriptions of departmental and malodeyatelnyh broad gauge railway lines, metro, tram networks, as well as other rail traffic.
Posted 08/24/2009 at 2:09 PM
---
from Watertown, NY, Lodge #496
Greetings from ER Tim Griffith
and Members of Watertown, NY Lodge 496
" Gate Way To The 1000 Islands and the St. Lawrence River "
Winter has just about left our neck of the woods, and the geese are heading
back to the north country. Its warming up and maple sap is starting
to run. Can't wait to have some fresh New York State maple syrup!
Just stopped by to say hello and view your web page, maybe get some new ideas.
If your are in our area, why not stop by and say Hello!
You can find directions to our Lodge on our web site under Links.
Thanks,
Ed Becker, Lodge Webmaster,
biged.7837@verizon.net
Posted 03/23/2009 at 6:38 PM
---
You have an interesting website. I learned a lot about the Elks in Kentucky. Joseph Normand Grinnell. Publisher/Editor of "Le Journal du Maudit Gratteux." Village of Lille in the town of Grand Isle, Maine, United States.
Posted 01/10/2009 at 4:02 AM
---
I am the late Carl Vincent Young grand-daughter. I remember so many times when I was young going to the lodge with my papap. Vince's wife Johnnie now lives in Mississippi with me. She has great memories of going to the lodge on Friday nights. Vince is also down in Mississippi now. We had him moved to the cemetary down here. Hope all is well at the lodge!
Posted 01/04/2009 at 7:15 PM
---
from Ashland, KY, Lodge #350
Ashland Lodge is the best there is, period, that's it.
Posted 12/26/2008 at 8:32 PM
---
Hello to everyone. I hope you are all having a great holiday season. Take care. John
Posted 12/22/2008 at 10:20 PM
---
Hello, I was born in Ashland and live in Massachusetts now. I have just found your site and have a suggestion: Your wonderful "Hall of Fame" yearly inductions are near and dear to my heart. My father, Charles "Buck" Pergrem was inducted as well as my uncle Nard Pergrem and my friend, Larry Conley and his father, George. It would be great to see those pictures on the site (or see them listed) and to hear about who is being inducted yearly.
Posted 09/01/2007 at 11:29 AM
---
from Circleville, OH, Lodge #77
My grandfather, Mr. L.A. Salender was a member of your lodge. He was a former Superindendent of Armco Steel. I hope to be stopping in for a visit soon.
Posted 06/07/2007 at 8:46 PM
---
from Waukesha, WI, Lodge #400
We are planning to drive to North Carolina in May, and thought we may be able to stop at your lodge. You have a pretty good site, keep up the good work.
Posted 04/09/2007 at 9:54 PM
---
Greetings to the Members of Ashland KY. Lodge #350;
I am a Brother Elk currently living in Massachusetts and will soon be retiring. My wife (Sharon) and I have decided we have had enough of northern winters and have decided to move to a warmer climate. We have decided that the Commonwealth of Kentucky is a great choice from the info we have garnered about your great state. We have centered our search for a retirement home in the Ashland area, mainly because of the location of an Elks Lodge. It is always difficult moving to a new area (especially out of state), but in our experience as members of the Concord, MA. Lodge of Elks, we are sure that as Elks, well have an immediate camaraderie with the folks in Ashland.
We will be giving up our snowmobile, but still plan to continue touring around on the Harley and doing some off-roading in the Jeep. Your area looks like a great location for both. In fact, from everything weve seen, Kentucky is a beautiful state.
I have served in the Concord Lodge in many capacities and have been the Lodge Esquire for the past six years. I would look forward to becoming an active member of the Ashland Lodge.
Brother Elks, I would appreciate any honest opinions and info about the Ashland area (beyond the usual PR hype from the Chamber of Commerce) for a new couple moving into the area. If you would like to give me any information about your town and area, so I could get to know the area, I would really appreciate your input.
Sincerely,
Paul J. Kelly Concord B.P.O.E. # 1479
Posted 03/04/2007 at 5:43 PM
---
from Winthrop, MA, Lodge #1078
Greetings from Winthrop MA. Lodge #1078, If your ever in our area be sure and stop in. You can also click on over check out our web page and sign our guest book. Our Lodge is minutes from Boston, in 2007 we are celebrating 100 years of Elkdom.
Bob Gillis, Lodge Historian
Posted 09/26/2006 at 5:37 PM
---
from Smithtown, NY, Lodge #2036
Greetings from Smithtown NY Lodge #2036 If your ever in our area be sure and stop in. You can also click on over check out our web page and sign our guest book.
Andy Wolke #2036 Web Master.
Posted 08/29/2006 at 7:08 PM
---
from Hamilton, OH, Lodge #93
the site looks good really like the gest book idea do any af the members trade lodge pins ?i have ohio pins to trade even
Posted 07/13/2006 at 9:42 PM
---
from Cynthiana, KY, Lodge #438
Posted 06/10/2006 at 6:53 PM
---
from Ashland, KY, Lodge #350
Great site Mike...and I thought you were only good at billiards!
Posted 04/11/2006 at 9:16 AM
---
from Knoxville, TN, Lodge #160
I plan to be in the area later this year and thought I would like to drop in for a visit. Good job on your site.
Posted 10/16/2005 at 8:06 PM
---
from Griffin, GA, Lodge #1207
Our Lodge in Griffin now has a new site so I'm interested in others. Yours is special!
Posted 07/16/2005 at 3:05 PM
---
Hi, I am a member of "The Return". Just wanted to say that we love playing at the Ashland Elks, Lodge #350. They truly are the B.est P.eople O.n E.arth. We first performed at the Ashland Elks back in about 1968 when it was down between Winchester and Carter Ave. We were in High School and played parties there in the upstairs Ballroom. We have enjoyed many, many years playing for the Elks. Thanks Gary Kesling The Return
Posted 07/14/2005 at 11:04 AM
---
from Fayetteville, NC, Lodge #1081
As Webmaster of our Lodge, I am visiting all VHP's for new and creative ideas.
Thank you!
Posted 04/12/2005 at 10:38 AM
---
from Middlesboro, KY, Lodge #119
Good to see other Lodges in Kentucky taking advantage of the web site. Our Lodge also has a wesite at middlesboroelks.com.
Posted 07/21/2004 at 8:33 PM
---
It's great to see other Elks Lodges using the web. Our Lodge 1446 is also on the Elks page at www.elks.org , please drop by and sign our guest book. We also have our own web page listed as: www.duncanelksclub.org. We have a 18 hole golf course, pro shop, ballroom, dining room, swimming pool, card room, lounge, and 19th hole. If you or any of your members are ever in Duncan, Oklahoma, please stop by and play a round of golf and have dinner. We would love to have other Elks come and see us.
Greetings Elks Of Ashland, KY Lodge #350 From Duncan, Oklahoma Lodge #1446
Sam Amerson Chairman – Board of Trustees
Duncan, Oklahoma
Posted 04/15/2004 at 11:47 AM
---
from Ashland, KY, Lodge #350
As the new Webmaster for the Ashland Elks #350 virtual home page, I would like to welcome all visitors to the site. Please sign the guest book before you leave.
I would also like to extend an invitation to all members of other lodges to stop by and see us when you are in the Ashland, KY area.
Posted 04/10/2004 at 12:15 PM
20212021Server: www