Lodge #2726 Guest Book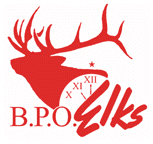 ---
I have a good friend (since grade school)that is a active memeber and very involved with the Oakveille Elks. Over the last few years he has been going through some tough times and really needs some help. I don't know what to do and I'm very worried he is going to end up hurting himself, someone he loves or other. He has many friends and a daughter that cares for him but I'm afraid he is not strong enough on his own to get the help he needs. I was hoping that his brothers at the Elks could step in.
Posted 09/06/2012 at 10:10 AM
---
from Prescott, AZ, Lodge #330
Greetings from Prescott Lodge #330 "Mother Lodge of Arizona". In December of 1895 a group of enterprising businessmen in Prescott, sturdy products of the early west, charted the original petition for a dispensation and later established the Prescott Lodge. Prescott and Prescott Valley, Arizona, are located about 90 miles northwest of Phoenix. With our mile high elevation (5230 ft), the cities enjoy a four-season climate with both mild winters and summers. Check out our elks.org page. We have a very content rich elks.org site. Featured pages are [Facilites], [Officers], [Elks'n the News], [Extra Pages](includes rich history of our lodge) and especially our [Photo Gallery]. If you have time after looking it over please sign our [Guest Book]. Thank you
Posted 05/06/2012 at 10:31 PM
---
Was initiated into the Oakville Lodge # 2726 last evening. It was a fine affair. Enjoyed the good food and new and old friendships with members of the lodge.
Look forward to future events and developing new friendships along the way.
Glenn (Curly) Bartels
Posted 06/24/2010 at 1:55 PM
---
Thanks to all that made me feel so welcome on saturday"s trip. I hope that I have the oppurtunity to spend more time with such kind and pleasant people. Sincerely Mike Benson.
Posted 07/28/2009 at 2:07 PM
---
Nice webpage, good job. I hope everyone has a fun and safe holiday season. Take care, John
Posted 11/21/2008 at 12:14 AM
---
from Oakville, MO, Lodge #2726
TOM AWESOME JOB! YOUR HARD WORK IS GREATLY APPRECIATED. NICE TO SEE THINGS UPDATED. TOM COULD YOU GIVE ME A CALL ABOUT THE MEAT SHOOTS.
Posted 07/24/2007 at 8:58 PM
---
from Oakville, MO, Lodge #2726
Great job Tom keep up the good work.
Posted 07/16/2007 at 1:29 PM
---
Members And visitors, sign in and give suggestions, for what would make this site more useful to you. Thank you
Posted 07/06/2007 at 11:22 PM
---
Back to top