Lodge #2661 Guest Book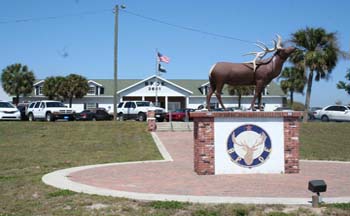 ---
from St. Petersburg, FL, Lodge #1224
My wife and I attended your Lee Allcorn dinner and dance Saturday night and had a great time. The food was excellent and we danced and enjoyed the band. We hope you can do it again. We spoke to your ER Bob and his wife and wanted them to know that it was a fun time and we appreciate all who helped make a wonderful evening.
Posted 05/02/2016 at 4:43 PM
---
from Lake Placid, FL, Lodge #2661
Thank you Gary for the compliment. Always enjoy other lodges visiting. Fall and Winter we enjoy all our Northern friends enjoying the warmth of weather and our lodge
Posted 03/29/2014 at 11:02 AM
---
from Bellefonte, PA, Lodge #1094
Stopped by yesterday on our travels through Florida. The lodge is very nice and Peggy is a great bartender. Thank you for the hospitality.
Posted 03/26/2014 at 11:41 AM
---
from Lake Placid, FL, Lodge #2661
Anybody going thru central Florida it is worth to stop by and visit our Lodge #2661 and Lake Placid FL voted "The Most Interesting Town"
Posted 11/12/2013 at 2:14 PM
---
from Lake Placid, FL, Lodge #2661
Great job Evelyn. Sooooo easy to check calendar, etc. Thanks, Jerry
Posted 09/21/2011 at 2:49 PM
---
Back to top