Lodge #2354 Guest Book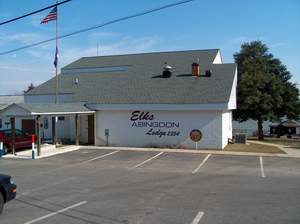 ---
from Zephyrhills, FL, Lodge #2731
Entire paternal side of family from Abington. Grew up eating Crabs at Gablers and Shad from the bay. Looking forward to stopping by some day. Sending an email to ER regarding Veterans fund raising ideas from my Company. Have a great Fall season.
Posted 09/19/2017 at 3:03 PM
---
from Abingdon, MD, Lodge #2354
Wondering if you rent out space for a 50th reunion of Edgewood High School, for about 60 people, on 10/14/16? I can be reached at 443-327-7502 - wes wise
Posted 04/23/2016 at 7:56 AM
---
Just wanted to congratulate Lodge #2354 for all of the community service opportunities you provide. We share a common mission. From one socially conscience non profit to another--thanks. Jennifer Moumane; Director at GSCM; 410-358-9711, ext 258; jmoumane@gscm.org
Posted 03/10/2014 at 2:15 PM
---
from Prescott, AZ, Lodge #330
Greetings from Prescott Lodge #330 "Mother Lodge of Arizona". In December of 1895 a group of enterprising businessmen in Prescott, sturdy products of the early west, charted the original petition for a dispensation and later established the Prescott Lodge. Prescott and Prescott Valley, Arizona, are located about 90 miles northwest of Phoenix. With our mile high elevation (5230 ft), the cities enjoy a four-season climate with both mild winters and summers. Check out our elks.org page. We have a very content rich elks.org site. Featured pages are [Facilites], [Officers], [Elks'n the News], [Extra Pages](includes rich history of our lodge) and especially our [Photo Gallery]. If you have time after looking it over please sign our [Guest Book]. Thank you
Posted 05/09/2012 at 6:56 PM
---
I discovered you Orginazation while searching Craigslist for a part time job. After searching the web I discovered that the Elks would be GREAT orginazation to belong to. I would like to have more information on how to go about joining your lodge. Please forward me any information that you can letting me know how my wife and I can go about joining your lodge. I live in Harford County between Bel Air & Abingdon Thank you for your time and help with this information. Thanks again, Don Lemmon
Posted 02/28/2011 at 8:42 PM
---
Robb - Thanks for the feedback. Our Lodge address is located on the "Contact Us" link on the left side of the Web page. Also, on our Lodge Web site (www.abingdonelks.com) you can find a link to Google which will map the Lodge and provide directions.
Posted 11/06/2010 at 7:02 AM
---
I noticed that there is no listing for the address or directions for the lodge on the website. maybe it would be a good thing to list these for people wanting to join or to rent the facility.
Posted 11/05/2010 at 6:20 PM
---
from East Stroudsburg, PA, Lodge #319
Greetings from East Stroudsburg lodge #319. Just viewing your lodge's websites to get some ideas. Please stop by our website, view some of our events and sign our guestbook.
Posted 04/01/2010 at 12:33 PM
---
from Rahway, NJ, Lodge #1075
My fellow lodge members Eric and James, as well as myself, were on our way home from Virginia when we decided to stop by your lodge. We enjoyed your lodge and your hospitality was wonderful. We hope to show up there again very soon. And by the way, your view of the bay is outrageous.
Posted 10/26/2009 at 2:24 PM
---
from Abingdon, MD, Lodge #2354
Great time last night,Good friends,Wii,and beer.
Posted 10/10/2009 at 7:12 PM
---
from Abingdon, MD, Lodge #2354
Best turn out ever for our 2009 Ocean City Convention. What a great group of people to hang out with and promote Elktom. Proud to be associated with the Abingdon Elks. GO ABINGDON!!! Best People On Earth. Not a member? Come to the Lodge and check us out.
Posted 10/08/2009 at 10:25 PM
---
from Abingdon, MD, Lodge #2354
Lee & Margie,
Welcome to the Abingdon Elks. It is great to see you getting involved in the lodge. You will have a fun and rewarding time being part of this great family.
Posted 05/10/2009 at 7:20 PM
---
My wife and I knew several members thru an outside social club. They kept asking us to checkout the Abingdon Elks. Finally we did and what a great group of people. We applied on day one and are sorry we waited so long. Can tell there are some friends for life in this place.
Posted 05/09/2009 at 5:07 PM
---
from Abingdon, MD, Lodge #2354
This lodge just keeps getting better and better. Thanks to everyone involved for helping to improve our community and for making the Abingdon Lodge the best place in Harford County to spend the evening. We have some amazing events planned over the next few months and there is much more to come.
Posted 05/04/2009 at 7:02 PM
---
from Abingdon, MD, Lodge #2354
What a great place to hang out! Give a little - Get alot!
Posted 03/28/2009 at 5:00 PM
---
I have been looking for a place to join for fun, and to feel secure,and to meet new friends. I think this may be it. I will be contacting you soon as how to get a membership, the fees and ect..... Seems like a nice place with a warm inviroment.
Posted 02/27/2009 at 12:17 PM
---
Me and Lisa would like to say Thanks to everyone for making the Mardi Gras bash a good time as always. Just be prepared...this West Virginia redneck and his lovely companion had never played "Cornhole", ever before. So the next time, ITS ON!!!!Anyway....thought it was a class act for the final four to give the purse to the organization. Kinda reminded me of when the owner of the Steelers gave the AFC Championship game ball this year to the President. Go Steelers!!! Love you guys!
Posted 02/23/2009 at 1:11 PM
---
Just want to take this time to say thank you for every member i have became friends with. Its always a comfortable,fun,and secure environment everytime i drop in. I have decided to retire in this area so you have to put up with this "Steelers Fan" a little bit longer. Love you guys. G
Posted 02/11/2009 at 8:40 AM
---
from Abingdon, MD, Lodge #2354
I just wanted eveyone to know how proud I am of the members working together for the betterment of our Lodge. (is that a word) Anyway, great job. Still the place to be, only a warm and friendly look.
Posted 12/18/2008 at 11:10 AM
---
from Abingdon, MD, Lodge #2354
Just wanted to say that if you haven't been to the Lodge in awhile you have no idea what you are missing! The place looks completly different and is bright and airy inside! Great job by all! We are soooooooooo glad that we joined this Lodge! Great Members and quite a place to be!
Posted 10/21/2008 at 3:27 PM
---
from Kent Island, MD, Lodge #2576
I just wanted to take a second and say hi to all the good folks I met while I stopped in a few months ago while camping nearby at Bar Harbor. Les and Bonnie and a few other came down to Kent Island Lodge and played bar bingo with us and won a few $$. Congrats. Anyway stop back down and see us island folks when ever you can. We also have new RV sites if you want to stay for a few days. Until next time be safe. Dan
Posted 09/07/2008 at 7:33 PM
---
Hi! Wanted to sign your guestbook. A close friend of ours is a member in NJ and we have visited a few lodges with him. We are interested in becoming members of the Abingdon Lodge. We live in Fallston.
Posted 01/26/2008 at 11:06 PM
---
from Havre DE Grace, MD, Lodge #1564
Posted 09/21/2007 at 10:53 AM
---
from Frederick, MD, Lodge #684
The web site looks great. Keep up the good work. We enjoyed hosting all who participated in your recent bus trip. I hope you enjoyed our welcoming committee. I look forward to visiting our Lodge in the very near future.
Bill
Posted 05/17/2007 at 12:35 AM
---
from Abingdon, MD, Lodge #2354
Being a member of Abingdon Lodge is like having an extended family. I cannot picture my life not being an Elk. Please make an attempt to come in and visit. We are the "Best People On Earth".
Bonnie
Posted 05/14/2007 at 10:16 AM
20202020