Lodge #2103 Guest Book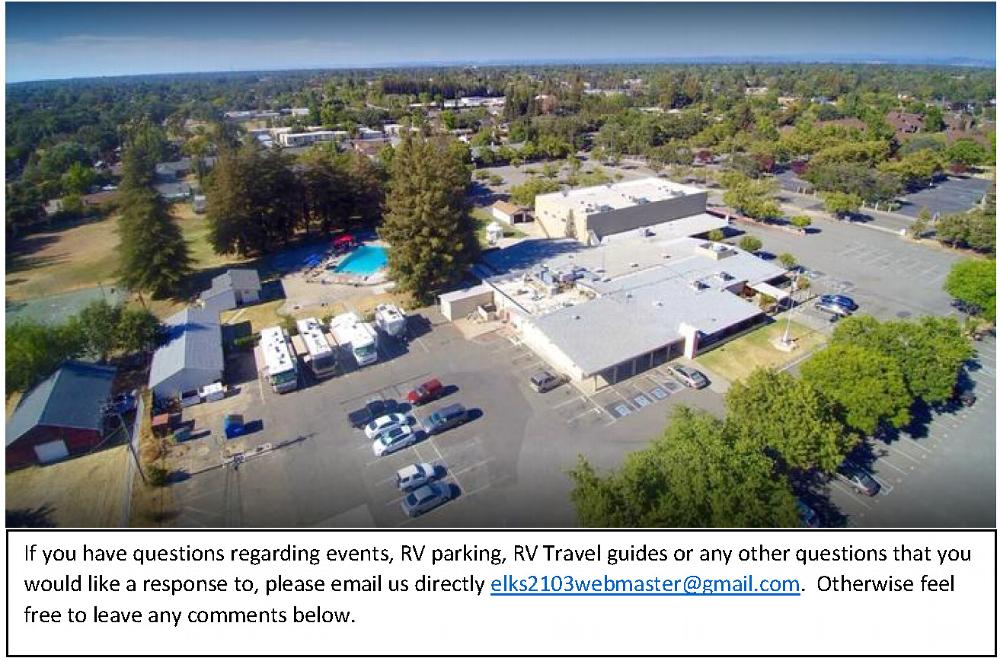 ---
from El Cajon, CA, Lodge #1812
I want to purchase your campground travel guide please
Posted 08/17/2020 at 4:17 PM
---
from New York, NY, Lodge #1
Good Morning, I used to take dance lessons on Sunday evening at the Carmichael location. Are these lessons and dance evening still being offered. I would love to return. Thank you
Posted 04/02/2016 at 12:52 PM
---
I would like to thank the Carmichael elks lodge for all the fun I had growing up around the lodge. From swimming to pancake breakfasts, I have never forgotten the memories. My grandparents have since then passed on, and I am now 38. My grandpa donated elks antlers that used to hang from the wall in the lounge. If there still there, am I allowed to see them?
Posted 04/09/2014 at 10:58 AM
---
A big thank you to the Carmichael Elks 2103 and especially to Mr. and Mrs. Wane Willis for the Gift Card presented to my father, James O'Connell, at the Yountville Veterans Home this December 2013. It was very much appreciated!
Posted 01/10/2014 at 11:40 AM
---
from Burns, OR, Lodge #1680
This lodge is a must stop for anyone.the R V parking is great.By far the best I ever been.This lodge offers showers/bathrooms, pool along with daily lunch and dinner.It is a busy hive of Elk's with a true reson why we are Elk's."helping others"
Posted 09/17/2013 at 2:34 PM
---
from Mojave, CA, Lodge #2059
Problem Solved !
I got my phone call returned .......
Posted 02/27/2013 at 1:51 PM
---
from Mojave, CA, Lodge #2059
Have the RV Guides ceased publication? I have called, left a voice message AND emailed with no response.
Posted 02/27/2013 at 1:15 PM
---
from Walla Walla, WA, Lodge #287
Had a Great Super Bowl Weekend at 2103!!Awesome Potluck spread with BBQ'd Tri Tips and Ribs done on the Patio!! Tim and Dianna kept the Bar under Control!!LOL See you guys in March on my way through again!!
Posted 02/14/2013 at 5:24 PM
---
from Prescott, AZ, Lodge #330
Greetings from Prescott, AZ Lodge #330 "Mother Lodge of Arizona". In December of 1895 a group of enterprising businessmen in Prescott, sturdy products of the early west, charted the original petition for a dispensation and later established the Prescott Lodge. Prescott and Prescott Valley, Arizona, located about 90 miles northwest of Phoenix. With our mile high elevation (5230 ft), the cities enjoy a four-season climate with both mild winters and summers. Check out our elks.org page and sign our Guest Book.
Posted 05/02/2012 at 5:31 PM
---
from Walla Walla, WA, Lodge #287
Am spending a couple days in the RV park.What a great well maintained and loaded with amenities!!Pool,Showers,Etc!! I have visited here before and Kudos to the super staff!! Annette the Bartender for one.Met Tom Busch the ER and he gave me his pin.A great spaghetti dinner was served on Monday night with a great crowd as it was also Indoctrination night also and was told by ER Tom like 14 new prospects!!KUDOS #2103!! If ever in area be sure and stop by.I will !!LOL
Mike Creevan Sr PER
Posted 09/27/2011 at 9:23 AM
---
from Carmichael, CA, Lodge #2103
i would like more info to becoming a member after reading the website. hope to hear back from someone. thnks tina
Posted 07/01/2011 at 11:13 PM
---
Balloting today, I hope I get voted in. I really like the people here, and the activities and fund raising you do for all different types of organizations. It is very important to help others.
Posted 12/08/2010 at 11:23 AM
---
Si, a mi me gusta la comida que sirven durante el invierno!!!me gusta tacos, burritos y papas fritas tambien!
Posted 11/23/2010 at 7:27 PM
---
Just looking. Found you while looking for RV sites. Going to check out the Elks further.
Posted 10/17/2010 at 10:02 AM
---
from Carmichael, CA, Lodge #2103
My husband (Dave Ossont) just became a member last month. We are both looking forward to getting to know our new brothers and sisters in the Elk family. Everyone is so nice and makes us feel like we are "home" We are looking forward to getting involved with the many activities.
Posted 09/27/2010 at 2:24 PM
---
from Carmichael, CA, Lodge #2103
Congratulations on another great performance at the Ritual. I am enjoying the hospitilatiy of the Rome Elks 96. There meeting last week and I was invited to attended. After the officers their was one member and me as a guest. See you brothers and sisters next week enjoy the weather as we have snow today. 4/30/08
Posted 04/30/2008 at 2:01 PM
---
Hello Carmichael from Clearlake Elks. Semi getting organized and moved in and was looking at your web site. My paper work to move over to Clearlake should be on its way back from Bill Cridland. Congrats to the new officers (and some old ones)...you guys always do it so great and I look forward to you winning at State so I can proudly say, "Hey, I used to be on that team!!" Clearlake is a small lodge but we do by far serve the best Friday night dinners and everyone is so welcomed by the other members. Enjoying the grandkids and watching the golfers go by me here on the 2nd T and hoping to get a golf cart soon so I can be designated driver for my friends and family. Congrats again!
Posted 04/16/2008 at 10:18 AM
---
from Allegheny, PA, Lodge #339
Your Lodge is the location for the Sacramento Banjo-Rama every year. The hospitality and kindness of your members is appreciated by the visiting banjo players who attend. I always enjoy visiting your Lodge.
-- Frank Rossi Pittsburgh Banjo Club Pittsburgh, PA
Posted 03/02/2008 at 2:23 PM
---
Back to top