Lodge #2103 Guest Book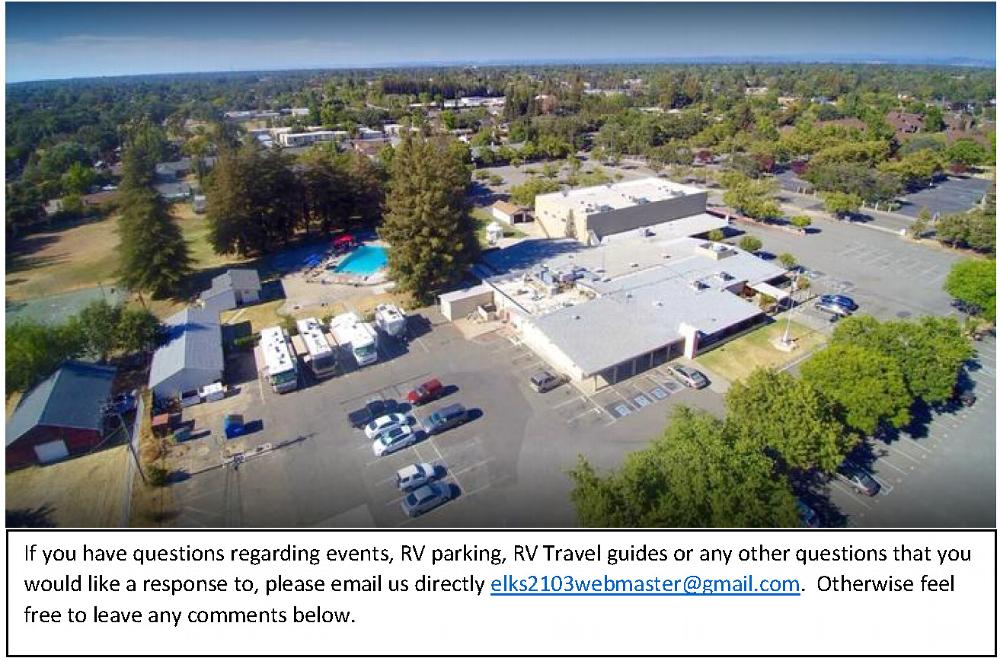 ---
from El Cajon, CA, Lodge #1812
I want to purchase your campground travel guide please
Posted 08/17/2020 at 4:17 PM
---
from New York, NY, Lodge #1
Good Morning, I used to take dance lessons on Sunday evening at the Carmichael location. Are these lessons and dance evening still being offered. I would love to return. Thank you
Posted 04/02/2016 at 12:52 PM
---
I would like to thank the Carmichael elks lodge for all the fun I had growing up around the lodge. From swimming to pancake breakfasts, I have never forgotten the memories. My grandparents have since then passed on, and I am now 38. My grandpa donated elks antlers that used to hang from the wall in the lounge. If there still there, am I allowed to see them?
Posted 04/09/2014 at 10:58 AM
---
A big thank you to the Carmichael Elks 2103 and especially to Mr. and Mrs. Wane Willis for the Gift Card presented to my father, James O'Connell, at the Yountville Veterans Home this December 2013. It was very much appreciated!
Posted 01/10/2014 at 11:40 AM
---
from Burns, OR, Lodge #1680
This lodge is a must stop for anyone.the R V parking is great.By far the best I ever been.This lodge offers showers/bathrooms, pool along with daily lunch and dinner.It is a busy hive of Elk's with a true reson why we are Elk's."helping others"
Posted 09/17/2013 at 2:34 PM
---
from Walla Walla, WA, Lodge #287
Had a Great Super Bowl Weekend at 2103!!Awesome Potluck spread with BBQ'd Tri Tips and Ribs done on the Patio!! Tim and Dianna kept the Bar under Control!!LOL See you guys in March on my way through again!!
Posted 02/14/2013 at 5:24 PM
---
Back to top