Lodge #846 Guest Book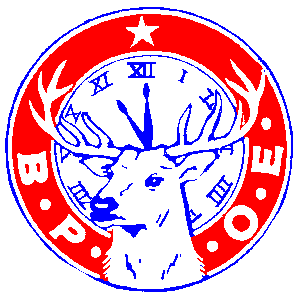 ---
from Prescott, AZ, Lodge #330
Greetings from Prescott Lodge #330 "Mother Lodge of Arizona". In December of 1895 a group of enterprising businessmen in Prescott, sturdy products of the early west, charted the original petition for a dispensation and later established the Prescott Lodge. Prescott and Prescott Valley, Arizona, are located about 90 miles northwest of Phoenix. With our mile high elevation (5230 ft), the cities enjoy a four-season climate with both mild winters and summers. Check out our elks.org page. We have a very content rich elks.org site. Featured pages are [Facilites], [Officers], [Elks'n the News], [Extra Pages](includes rich history of our lodge) and especially our [Photo Gallery]. If you have time after looking it over please sign our [Guest Book]. Thank you
Posted 05/09/2012 at 10:27 PM
---
from East Stroudsburg, PA, Lodge #319
Greetings from East Stroudsburg lodge #319. Just viewing other lodge's websites to get some ideas. Stop by our website and view some of our events.
Posted 03/30/2010 at 8:10 AM
---
from Watertown, NY, Lodge #496
Greetings from ER Scott LaVere
and Members of Watertown, NY Lodge 496
" Gate Way To The 1000 Islands and the St. Lawrence River "
Winter has just about left our neck of the woods, except for up on the Tug Hill
Plateau south of town where we still have two foot of snow. But, the warm
weather is starting to return to the north country of up State New York.
Just stopped by to say hello and view your web page, maybe get some new ideas.
If you are in our area, why not stop by and say Hello!
You can find directions to our Lodge on our web site under Links.
Thanks,
Ed Becker, PEOY, PO, Lodge Webmaster,
Posted 04/21/2009 at 5:42 AM
---
from South Plainfield, NJ, Lodge #2298
WHAT IS THIS COUNTRY COMING TO ??????? I CHECKED IT ON SNOPES & IT SAYS: TRUE !
This should make your blood boil...it DOES mine!
ABC NEWS BANS FLAG LAPEL PINS!
YESTERDAY THE BRASS AT ABC NEWS ISSUED ORDERS FORBIDDING REPORTERS TO WEAR LAPEL PIN AMERICAN FLAGS OR OTHER PATRIOTIC INSIGNIA. THEIR REASONING WAS THAT ABC SHOULD REMAIN NEUTRAL ABOUT 'CAUSES'.
SINCE WHEN IS SUP P ORT FOR PREVENTING DEATH AND DESTRUCTION SOME SORT OF A 'CAUSE'? SINCE WHEN IS PATRIOTISM TO BE DISCOURAGED?
I URGE YOU TO BOYCOTT ABC AND ITS SPONSORS AND AFFILIATES. WE ARE SLOWLY LOSING EVERYTHING OUR COUNTRY STANDS FOR AND EVERYTHING OUR MEN AND WOMEN FOUGHT AND DIED TO PRESERVE!
PLEASE FORWARD THIS TO AS MANY AS YOU CAN. THIS HAS BEEN VERIFIED THROUGH: http://www.snopes.com/rumors/noflags.asp
Exalted Ruler Debra J. Shuleski
Posted 01/12/2009 at 5:24 AM
---
from Winthrop, MA, Lodge #1078
Greetings from Winthrop MA. Lodge #1078, If your ever in our area be sure and stop in. You can also click on over check out our web page and sign our guest book. Our Lodge is minutes from Boston, in 2007 we are celebrating 100 years of Elkdom.
Bob Gillis, Lodge Historian
Posted 09/29/2006 at 7:30 AM
---
from Smithtown, NY, Lodge #2036
Greetings from Smithtown NY Lodge #2036 If your ever in our area be sure and stop in. You can also click on over check out our web page and sign our guest book.
Andy Wolke #2036 Web Master.
Posted 08/29/2006 at 8:36 AM
---
As the new Webmaster for my Lodge I've been learning a lot. I enjoyed your webpage and got a few ideas. Thanks, Howard Jones
Posted 07/27/2006 at 11:19 PM
---
from Connellsville, PA, Lodge #503
Good job on the website Jim, keep up the good work.
Posted 05/10/2006 at 1:53 PM
---
from Fayetteville, NC, Lodge #1081
As Webmaster of our Lodge, I am visiting all VHP's for new and creative ideas.
Thank you!
Posted 04/12/2005 at 11:10 AM
---
Hi there Elks. I just wanted to welcome you from the Duncan Lodge #1446, home of Mr. James Beyl the Oklahoma Elks State President for 2004-2005. Stop by and see us for a round of golf and dinner. Check out our webpage at www.duncanelksclub.org.
Gerry Singer Esquire Duncan Lodge #1446
Posted 05/19/2004 at 10:00 PM
---
Hello! From the Duncan Elks Lodge 1446 in Duncan, Oklahoma. It's great to see other lodges out on the web. You can see us on the Elks Local Lodges Online as Lodge 1446 or check out our webpage at: www.duncanelksclub.org.
Posted 10/03/2003 at 3:00 PM
---
nice site. hope everything is going well tell all the guys i said hi
Posted 03/21/2003 at 11:38 AM
---
from Washington, PA, Lodge #776
Hi! Glad to see you're active again. Hope to stop in some time. Never been in your lodge. Don Lockwood PER; Chaplain. Washington #776
Posted 02/11/2003 at 6:31 PM
---
Nice home page image!
Posted 12/02/2002 at 9:07 AM
---
Back to top