Lodge #404 Guest Book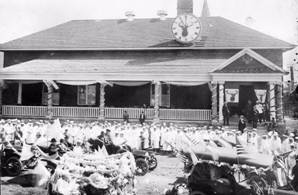 ---
from Prescott, AZ, Lodge #330
Greetings from Prescott Lodge #330 "Mother Lodge of Arizona". In December of 1895 a group of enterprising businessmen in Prescott, sturdy products of the early west, charted the original petition for a dispensation and later established the Prescott Lodge. Prescott and Prescott Valley, Arizona, are located about 90 miles northwest of Phoenix. With our mile high elevation (5230 ft), the cities enjoy a four-season climate with both mild winters and summers. Check out our elks.org page. We have a very content rich elks.org site. Featured pages are [Facilites], [Officers], [Elks'n the News], [Extra Pages](includes rich history of our lodge) and especially our [Photo Gallery]. If you have time after looking it over please sign our [Guest Book]. Thank you
Posted 05/08/2012 at 11:10 AM
---
from Warren-Sterling Heights, MI, Lodge #2292
We stopped up at the your lodge in Calumet over Labor Day weekend. I believe it was Saturday evening and were surpised you were closed. We are hoping to get back up that way next summer. What are your hours?
Thank you. JoAnn
Posted 11/05/2010 at 9:39 AM
---
from Central City, CO, Lodge #557
43 Year member moving to Tamarack City in one month. I am the new owner of the old A.L.Burgan home. I will drop by and perhaps become active. Tod
Posted 09/01/2010 at 10:58 PM
---
from Simi Valley, CA, Lodge #2492
OOps...wrong lodge number!
Posted 11/13/2009 at 3:24 PM
---
from Shelby, NC, Lodge #1709
Looking at your web site, better than most I have seen so far! I will stop in next summer when I make my trek to da U.P.. I have a place on Otter Lake.
Have a great winter!
David Mair
Posted 11/13/2009 at 3:21 PM
---
Just wanted to say Hello. And tell you your web site looks good.I am the web master of my lodge site,Please come over for a look at our site.
Posted 11/10/2009 at 9:37 AM
---
from Watertown, NY, Lodge #496
Greetings from ER Scott LaVere
and Members of Watertown, NY Lodge 496
" Gate Way To The 1000 Islands and the St. Lawrence River "
Winter has just about left our neck of the woods, and warm weather is
starting to return to the north country of up State New York.
Just stopped by to say hello and view your web page, maybe get some new ideas.
If you are in our area, why not stop by and say Hello!
You can find directions to our Lodge on our web site under Links.
Thanks,
Ed Becker, PEOY, PO, Lodge Webmaster
biged.7837@verizon.net
Posted 04/03/2009 at 2:31 PM
---
Posted 11/30/2008 at 12:43 AM
20182018