Lodge #174 Guest Book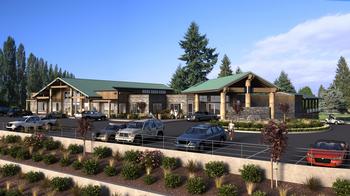 ---
from Tacoma, WA, Lodge #174
Greetings from Lenexa, Kansas. I had the privilege of joining this Lodge back in about 1974 or 75 while stationed at McChord and enjoyed every minute of my membership. Loved the crack crab nights and had some really great times during the Christmas/New Years times. Had to take a demit when I got stationed in Germany in 1976 and still have the paperwork. Anyway just wanted to say hello. Cliff...
Posted 05/29/2021 at 9:04 AM
---
from Walla Walla, WA, Lodge #287
My Wife Jean and I were present at your Dedication on Saturday June 22. 3 Great speeches by 2 PGER's,Frank Garland and Roger True and the GER Tom Brazier!! Great Dinner!!Awesome Bldg. Will be back when fully opened!!
Posted 06/23/2013 at 9:37 PM
---
from Prescott, AZ, Lodge #330
Greetings from Prescott Lodge #330 "Mother Lodge of Arizona". In December of 1895 a group of enterprising businessmen in Prescott, sturdy products of the early west, charted the original petition for a dispensation and later established the Prescott Lodge. Prescott and Prescott Valley, Arizona, are located about 90 miles northwest of Phoenix. With our mile high elevation (5230 ft), the cities enjoy a four-season climate with both mild winters and summers. Check out our elks.org page. We have a very content rich elks.org site. Featured pages are [Facilites], [Officers], [Elks'n the News], [Extra Pages](includes rich history of our lodge) and especially our [Photo Gallery]. If you have time after looking it over please sign our [Guest Book]. Thank you
Posted 05/03/2012 at 7:28 PM
---
from Columbia Basin, WA, Lodge #1930
Nice looking Lodge website. Love the look of the new building.
Posted 05/03/2012 at 2:33 PM
---
Thank you for making Christmas something other than just another day for my family ... this year has been a struggle so our local santa didn't bring much but the gifts and new bike will long make this one to remember.
Posted 01/08/2011 at 12:26 AM
---
from Holley-Navarre, FL, Lodge #2787
Currently stationed in germany, will be enroute to Ft Lewis in a few short months. Hoping to become a fellow elk in the Tacoma area.
Posted 11/26/2010 at 2:34 PM
---
from Ballard(Seattle), WA, Lodge #827
danceing schedule septemer
Posted 09/14/2010 at 3:09 PM
---
from Westminster, CO, Lodge #2227
Touring the Northwest as full-time RVer. Will be in your area soon - see you then.
Posted 08/01/2010 at 10:18 AM
---
from Beaver Dam, WI, Lodge #1540
Nice webiste! We're looking forward to our visit the first two weeks of June. We'll definetely be stopping by and we hope to exchange a Lodge pin or two.
Posted 05/14/2010 at 4:26 PM
---
from East Stroudsburg, PA, Lodge #319
Greetings from East Stroudsburg lodge #319. Just viewing other lodge's websites to get some ideas. Please stop by our website and view some of our events.
Posted 04/13/2010 at 3:09 PM
---
Back to top