A Hurricane Update from Hoboken Elks
by Jason Maurer, Exalted Ruler -
Hoboken Elks Lodge (#74)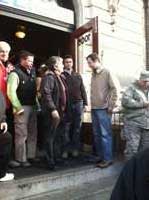 Sec. Napolitano and ER Jason Maurer outside Lodge.
In the wake of Hurricane Sandy, the Hoboken Elks lodge has served as "a beacon of hope" for our ravaged community. Since Thursday morning, we have served over 4,000 free hot meals to those in need. We have provided hot meal at the lodge from 10AM to 10PM daily and have distributed trays of hot food throughout the city to shelters, senior citizen complexes, volunteer centers, the National Guard, our courageous municipal works, and countless others. We will continue this effort for as long as possible. As electricity throughout our city is restored, we anticipate less families will need prepared food. At that time our lodge will shift its focus to helping our community and members rebuild.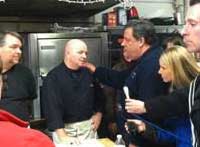 Gov. Christie talks with Chef Eddie Madigan.
In recognition of the good work of our Order, the Secretary of Homeland Security Janet Napolitano, Governor Chris Christie, U.S. Senators Lautenberg and Menedez, Congressman Sires, State Senator Brian Stack, Freeholder Anthony Romano, Mayor Dawn Zimmer and a host of elected officials visited our lodge today to see our volunteer efforts first hand. Hoboken is not the only community reeling from the destructive effects of Hurricane Sandy. Our hearts go out to all the communities in area effected by this storm. We hope our efforts this past week and today's news coverage helps raise awareness in communities throughout our nation of the wonderful work performed by the Elks in times of need and throughout the year.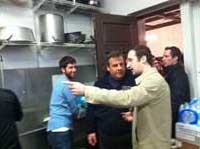 Gov. Christie and ER Jason Maurer.
Needless to say, many people in our community were impressed with our effort and have inquired about joining our lodge. I can promise you this year, the year of our 125th anniversary, Hoboken will have a +1 for membership. I have dubiously asked my Lecturing Knight to calculate the hours of service performed this week for our Charity book. I don't envy his task.
Below are a few articles which include a mention of the Elks today.
Sandy's aftermath presents a new challenge: Relocating New Yorkers
By The Associated Press | November 4th, 2012 6:41pm and updated again at 7pm
http://www.nj.com/news/index.ssf/2012/11/sandys_aftermath_presents_a_ne.html
Sign of the Times: Gov. Chris Christie in Hoboken greets Mayor Dawn Zimmer
Sunday November 4th 2012
http://www.hobokenhorse.com/search?q=gov+chris+christie+elks+club
Christie: Go Back to Work, Open Schools, Calm Down
Governor Chris Christie and Secretary of Homeland Security Janet Napolitano visited Hoboken on Sunday, urging residents to get their lives back to close to normal. Sunday, November 04, 2012
http://hoboken.patch.com/articles/governor-working-toward-sense-of-normalcy-urges-school-to-open-people-to-go-to-work
Readout of Secretary Napolitano's Visit to New Jersey | Homeland
Hudson Reporter - Hoboken Sunday update Gov Christie Homeland.
Video: Gov Christie and Secretary of Homeland Security Napolitano tour Hoboken after Hurricane Sandy
Posted: Sunday, November 04, 2012, 5:30 PM By John Munson/The Star-Ledger
http://videos.nj.com/star-ledger/2012/11/video_gov_christie_and_secreta.html
The Elks Club in Hoboken, which has been providing food and shelter to local residents in the aftermath of Hurricane Sandy, got a visit today from Gov Chris Christie and Secretary of Homeland Security Janet Napolitano. The Governor assured children that Halloween would be celebrated on Monday and that the amusement piers along the Shore would be rebuilt. The Secretary thanked volunteers, reminding them that their work is not over and that a new storm may be coming later this week. Video by John Munson/The Star-Ledger
Gov. Christie: N.J. residents should try to 'get back to work tomorrow'
Source: NJ.com, Nov 4 2012, 4:50pm CST
http://www.tvballa.com/2012/11/christopher-j-christie/back-try-get-residents-should-christie-nj-gov-tomorrow-w