Lodge Facilities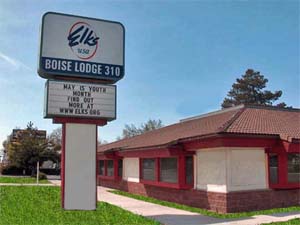 Boise Elks Lodge #310
We would like to welcome all Elks to Boise Elks Lodge #310. We are located at 6608 West Fairveiw Ave. The lounge is open at 3:00 pm. Monday thru Saturday. HAPPY HOUR IS FROM 3:00 P.M. TO 6:00 P.M.
Kitchen
The kitchen is fully equipped with oven, stove, microwave, freezer, refrigerator, sink, dinnerware and utensils.
Billiard room
The billiard room has a full size pool table and can be used for tournaments or just for fun. The pool room is open whenever the Lodge is open with the exception of when there is a function in the Lodge room. It is closed until the function is concluded.
Lodge Room
The Lodge Room is where our regular meetings are held. They are held the first and third Wednesday of each month, except Julu and August. It is also where the Lodge Formal and Social functions are held.
Lodge office
The Lodge office is open from 10:00 a.m. to 3:00 p.m, Monday thru Friday. The Secretary can be contacted at (208) 377-2763.
---
Back to top