Lodge Facilities
Ocean Shores/North Beach Elks #2581 Office Hours
Office hours are 10:00am to 2:00pm Monday thru Friday.

Closed holidays and weekends.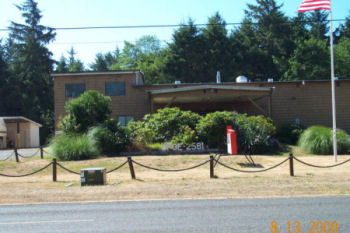 Ocean Shores/North Beach Elks #2581 RV Parking
We have ten RV camping spots with electricity and water hook ups. There is a separate RV Dump on site. Also, there are several "dry" camping sites behind the Lodge (Check with Office or Lounge BEFORE parking in a "Dry" spot - Thanks.)
RV camping is available to Elks and their guests only. No reservations are required, but it is recommended; it is First come, first serve basis.
Year-Round Rates for RV Sites are $15 per night for "Full Hook Ups" and $10 per night for "Dry Camping" per night.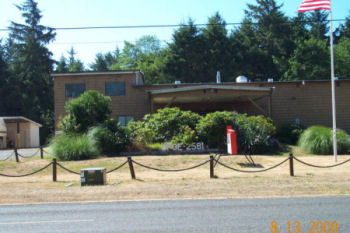 Ocean Shores/North Beach Elks #2581 Bar/Lounge
Lounge: Open 6 days 3:00pm to 8:00pm Tuesday through Sunday Closed Monday
Must be 21 and older to use the Bar/Lounge. No Minors allowed.
Ocean Shores/North Beach Elks #2581 Dining Room
Tuesday through Friday Dinners are being served from 5:00-7:00 PM. Check the Clam Digger (Lodge Newsletter) for menu items.
Tuesday is Monster Burgers
Friday is Pizza Dinners served on Saturdays only with Special Events, normally from 5:00pm to 7:00pm.
Ocean Shores/North Beach Elks#2581 Picnic Area
There is a covered picnic area (Cabana) with tables and room for a BBQ. Lights for the evenings if needed.
Feel free to use it if camping.
The Cabana is now fully enclosed.
Watch for the summer activities at the Cabana. Please see the Clamdigger for events. We will have the Cabana open on Saturdays from Noon to 3 pm.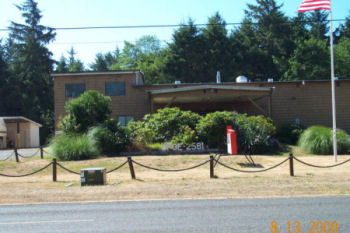 Facilities Availability (Open to Public)
Rent the Lodge for private events (when not in conflict with scheduled events or activities). Lodge is available for functions, receptions, meetings, banquets etc. Call the Office for more information at (360) 289-2581
Ocean Shores
OPEN to Local Residents (the Public). The Ocean Shores RV Club meets in the Lodge at 10AM of the Second Tuesday of every month from April through October. If RVing is your "thing," and you're a local, then come on in and join for some fun travel opportunities - once a month for five months. Happy Motoring.
Ocean Shores Bunko Club
Meets at the Lodge at 1PM on the last Friday of every month, unless it conflicts with holidays.
---
Back to top