Lodge Facilities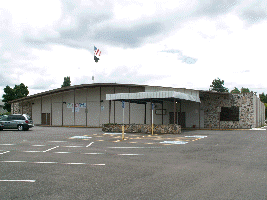 Lodge Office
Please feel welcome to visit our lodge. The office is open Tuesday through Friday from 11 a.m. to 3 p.m. All of our facilities are located at 1705 Centennial Blvd., Springfield, Oregon 97477. Directions: Exit I-5 at Hwy 126E, go East to Springfield's Mohawk Blvd. exit, then go right (South) on Mohawk about 3 blocks to Centennial Blvd. and turn left. Lodge is 1/2 block on your right. You can find a map in the 'Lodge Links' section. Our phone number is (541) 747-2145.
Restaurant
Our recently renovated dining room is welcoming and warm. It seats approximately 106. Please see the top of our calendar for the days and hours we serve meals and our dinner specials are listed on each day. In addition, check for delicious special dinners monthly on Mondays, such as PER Taco Nights served at 6 PM, and the Emblem Club's famous Spaghetti dinners which are served from 5:30 to 7:00 PM except for July, August, and December. We make rooms available for either small or large luncheon meetings, catered or not catered.
Lounge
Our comfortable lounge is open from 2:30 PM. until closing on Monday thru Friday and 4:00 PM until closing on Saturday. We are closed on Sunday. Enjoy watching your favorite game on our big screen HDTV. An additional 50" HDTV is available. Service bars in other rooms are open by request. HAPPY HOUR is from 4:00 to 6:00 PM except Thursdays when happy hour prices prevail through to closing. Even lower prices are available during Buffalo Hour, which is 3 - 4 PM Monday thru Friday.
SMOKING IS NOT PERMITTED IN THE LODGE. A covered outdoor smoking area is provided. Pick up a key card at the bar to re-enter the lodge.
Oregon Lottery
Did you know that you can purchase your next PowerBall tickets at our Springfield Lodge bar? Why wait in line with strangers, come on down and make our lottery committee happy by playing while you enjoy our hospitality. Good luck to everyone.
5 video poker machines and KENO are available. An ATM machine is located on site.
Games should be not be played for investment purposes, just for fun~!
Game Room
Enjoy this recently remodeled room with a mural and two custom lighted pool tables, which have been called "the best in town." It also has a dart board, several card tables, and a television set as well as easy access to the bar.
Banquet and Meeting Facilities
WE HAVE BANQUET and MEETING FACILITIES. IDEAL FOR RECEPTIONS, REUNIONS, PARTIES, ETC. Conveniently located and wheelchair accessible at the street level with plenty of parking. We cater Buffets, Dinners or Hors d'oeuvres. A small service bar in each room is available on request. The 'Clint Cobert' room seats 50+ people and the Lodge room seats 200+. Available Blueray & DVD player, updated sound equipment (you provide the audio source), microphone(s) and a 15 foot HD projector screen. Group lunches are available Monday thru Wednesday with reservations of 50 or more. Special lighting (mirror ball, etc.) is available.
For reservations: Call (541) 747-2145 between 11 a.m. and 3 p.m. Tuesday thru Friday or email elks2145@comcast.net, VISA & MASTERCARD ACCEPTED.
Note: Additional charges may apply for audio and/or video equipment.
RV Hookups
WELCOME! For Elks only, we have four convenient spaces available alongside our lodge with electric (50 amp service. Adapters available for 30A plugs) and water plus wireless internet access for a $15 requested donation per night with a four (4) day limit* per stay. We have no dump station, showers or laundry facilities available on site. We can tell you where a dump station is available nearby. Sorry, no reservations are accepted, but if you call us at (541)747-2145 we may be able to tell you if spaces are currently available. If the office is closed (see office hours) and a space is available, check in at the bar upon arrival, pick up a calendar of events in our lobby and join our activities.
* A city regulation.
---
Back to top